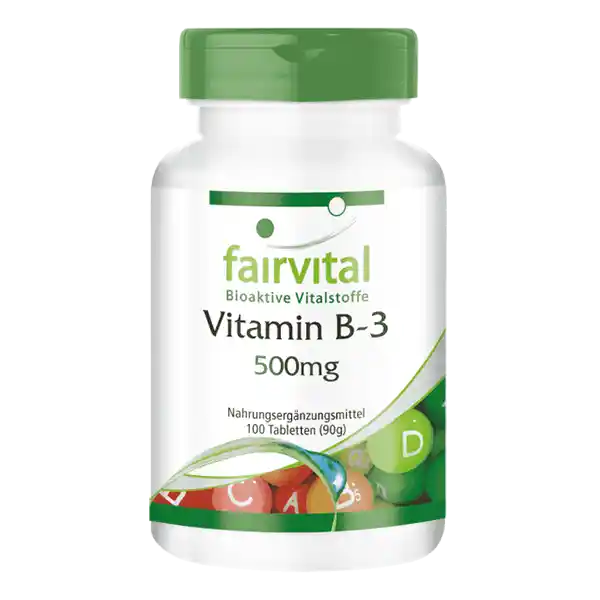 Quantity
Unit price
Base price
To

1

€13.95*

€155.00* / 1 kg
To

3

€13.45*

€149.44* / 1 kg
To

5

€12.95*

€143.89* / 1 kg
From

6

€12.45*

€138.33* / 1 kg
Product information "Vitamin B-3 500mg – 100 tablets"
High dose of vitamin B3
This dietary supplement from Fairvital is highly dosed with 500 mg vitamin B3 per tablet and daily dose. The vitamin is present in this product as nicotinamide (also: niacinamide).
Vitamin B3 can exist in three different forms: nicotinic acid, nicotinamide and inositol hexanicotinate. Nicotinic acid can now only be found in pharmaceuticals, so dietary supplements fall back on the other two forms.
The terms niacin and vitamin B3 are used synonymously for the three forms.
Nicotinamide
Nicotinamide or niacinamide is the amide of nicotinic acid and is an important component of the coenzymes NAD+ and NADP+.
Unlike nicotinic acid, nicotinamide does not solve the so-called Niacin flush from, which manifests itself in a feeling of warmth and a harmless reddening of the skin when taking nicotinic acid. However, particularly sensitive people can still experience mild flushing symptoms. In this case, taking it during or after eating can help.
The body is able to convert nicotinamide into nicotinic acid and vice versa. In addition, the organism can produce vitamin B3 itself from the amino acid L-tryptophan. An additional supply of vitamin B3 through dietary supplements is nevertheless quite sensible.
Vitamin B3 for the skin
The body needs vitamin B3 to obtain important energy from carbohydrates, protein and fats, which the body needs for exercise, maintaining body temperature and organ functions. Vitamin B3 can reduce tiredness in this way.
Niacin is also important for the nervous system, where, among other things, synthesis of neurotransmitters, which also has positive properties for the mental function.
B3 is also essential for the skin and mucous membrane. In this context, a sufficient intake prevents the Pellagra deficiency symptom, which manifests itself in rough, scaly and over-pigmented skin. For this reason, vitamin B3 also bears the nickname "PP factor", where PP stands for "Pellagra Preventing".
Foods with vitamin B3
Niacin is found naturally in both plant and animal foods. Very good vegetable sources are edible mushrooms such as button mushrooms, porcini mushrooms and chanterelles, but bran, rice, peas and peanuts also contain significant amounts of the vitamin.
Animal sources include Pork, lamb, chicken liver and fish such as mackerel and tuna.
Supplementation is particularly recommended in the event of a vitamin B3 deficiency if the body is not sufficiently supplied with the nutrient through food.
Vitamin B3 tablets from Fairvital
highly dosed
500mg vitamin B3 per tablet and daily dose
B3 as nicotinamide
for more energy
supports the nervous system
for a healthy mental balance
for beautiful skin and a good function of the mucous membranes
without a flush
vegetarian and vegan
gluten-free, lactose-free, fructose-free
without magnesium stearate and silicon dioxide
Application area:

Beauty

, Energy

, Psyche

Compatibility:

Fish-free

, Fructose free

, Lactose free

, Nut free

, Soy free

, Vegan

, Without gluten

Dosage form:

Tablets

Vital substances:

B vitamins
---
Eine Tablette enthält / NRV*:
Vitamin B3 500mg / 3125%
* NRV: Nutrient reference values (Referenzmengen) laut Verordnung (EU) Nr. 1169/2011
Zutaten: Nicotinamid, Füllstoff mikrokristalline Cellulose
| | |
| --- | --- |
| Abmessungen der Tabletten | |
| Länge | 17mm |
| Breite | 9mm |
---
Inhalt: 100 Tabletten

Verzehrempfehlung:
Erwachsene täglich 1 Tablette zu einer Mahlzeit mit viel Wasser.
Nicht geeignet für schwangere und stillende Frauen.