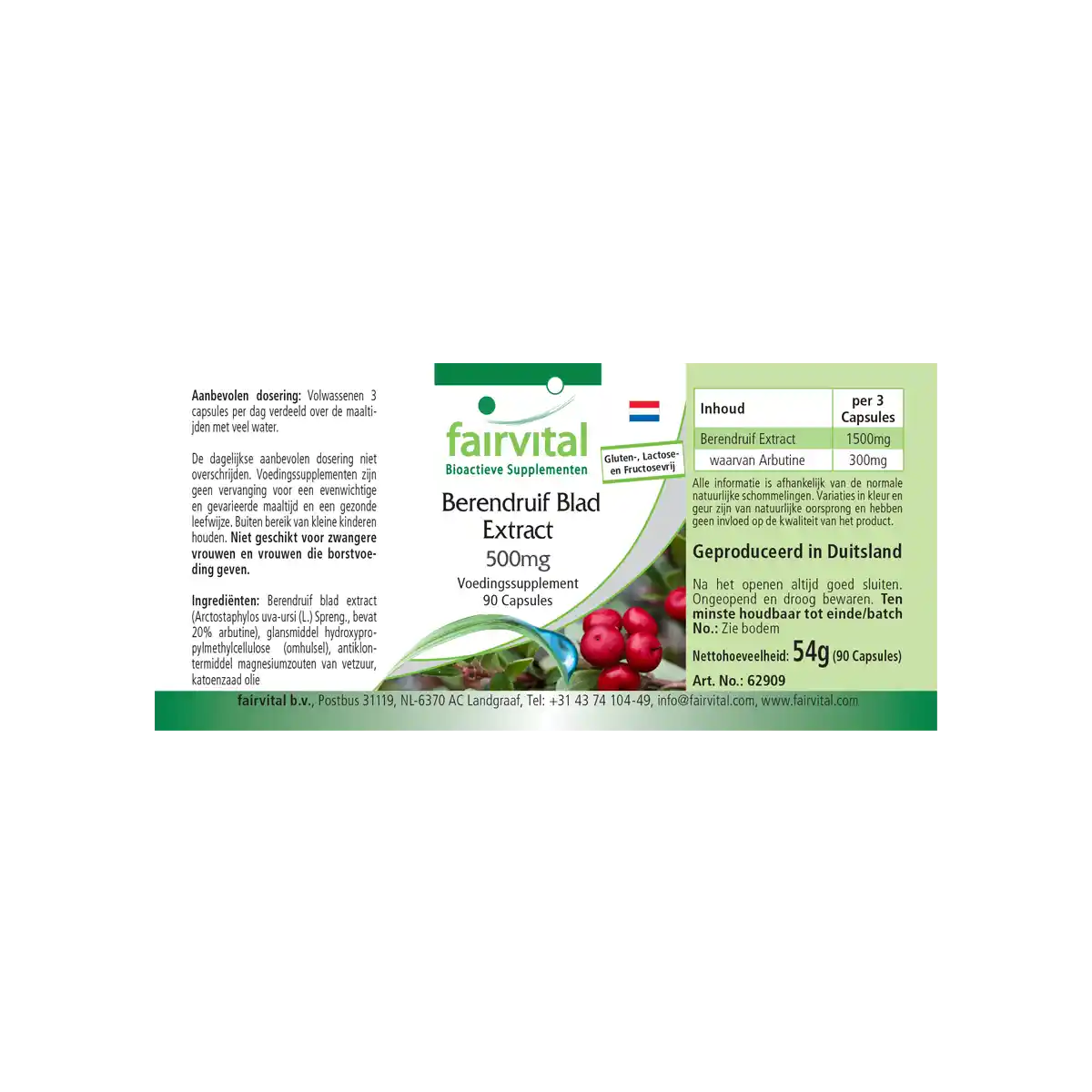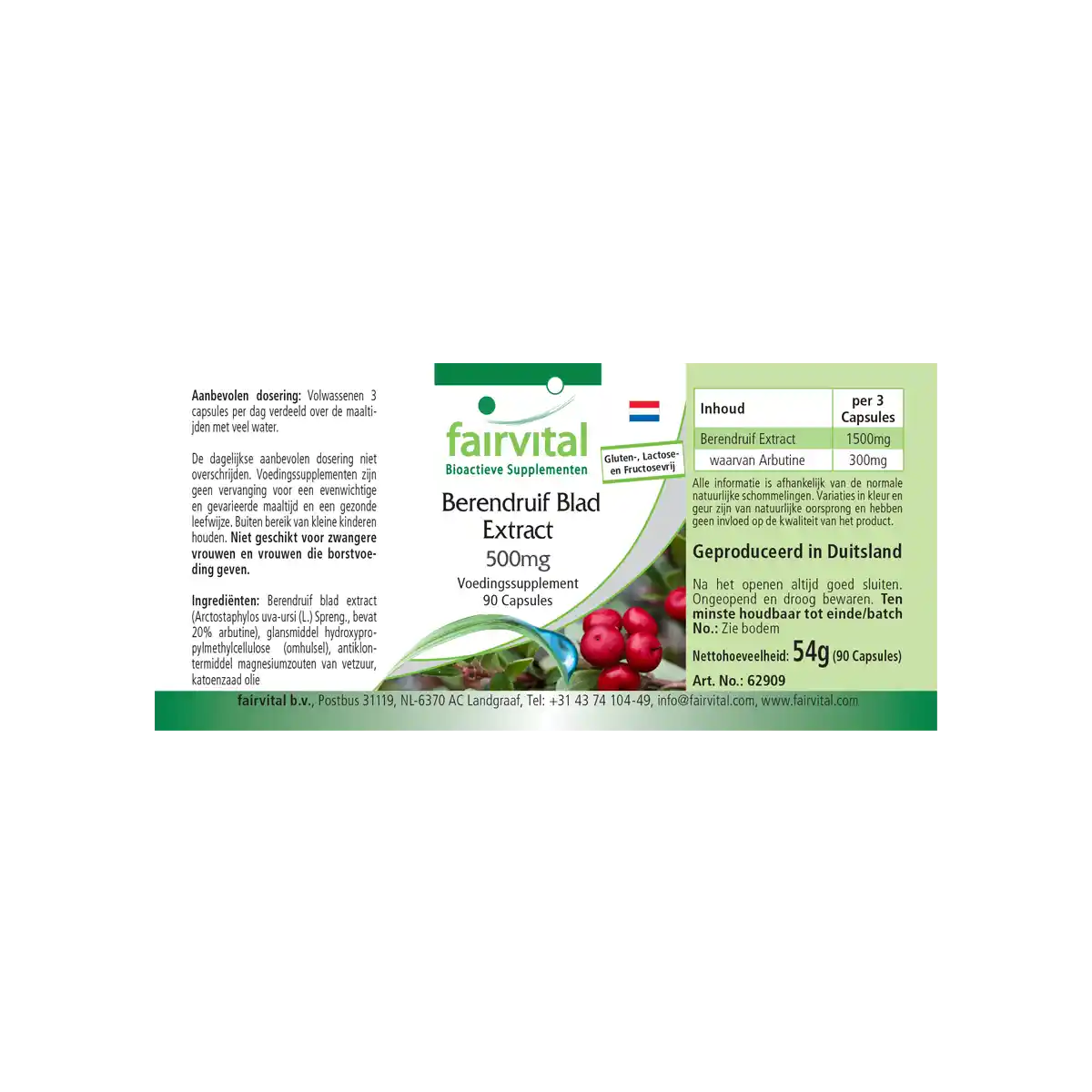 Quantity
Unit price
Base price
To

1

€24.95*

€462.04* / 1 kg
To

3

€23.95*

€443.52* / 1 kg
To

5

€22.95*

€425.00* / 1 kg
From

6

€21.45*

€397.22* / 1 kg
Product information "Uva Ursi Bearberry leaf extract 500mg - 90 capsules"
Uva Ursi bearberry: standardised to 20% arbutin
Botanical: Arctostaphylus uva-ursi
English: Bearberry, Kinnikinnick, Garden heliotrope
Deutsch: Bärentraube, Harnkraut, Uva Ursi, Wilder Buchs
The positive properties of Arctostaphylos uva-ursi (bearberry) have been known since the 13th century. It was initially mentioned in an English herbal book as a remedy to calm the bladder.
Uva Ursi benefits
The herb which has a lot in common with the blueberry in regards to its properties, focuses according to the Traditional Chinese Medicine on the "lower burner†. Uva Ursi has cooling and drying effects on a pathologically wet and heating condition, which can manifest in this area in varied symptoms.
What is arbutin?
Arbutin is a chemical compound, which belongs to the glycosides and hydroquinones. I occurs naturally, for example, in coffee, tea, raspberries, blueberries and cranberries as well as bearberries.
The bearberry extract by Fairvital contains high amounts of arbutin, which contributes to the health of the urinary system by disinfecting and activating the mucous membranes. Alkaline urine is able to improve this effect. A vegetarian nutrition and/or the intake of alkaline food supplements can be helpful.
Buy Uva Ursi capsules now at Fairvital!
standardised to 20% arbutin (100mg per capsule)
may have soothing properties for the urinary tract
disinfects and activates the mucous membranes in the urinary tract
highly dosed with 500mg bearberry leaf extract per capsule
vegetarian and vegan
gluten-free, lactose-free, fructose-free
without silicondioxide
Note: A brown colouring of the urine might occur after consumption. It will disappear after a few days.
Application area:

Ayurveda & TCM

, Prostate

Compatibility:

Fish-free

, Fructose free

, Lactose free

, Nut free

, Soy free

, Vegan

, Without gluten

Dosage form:

Capsules

Vital substances:

Plant extracts
---
Drie capsules bevatten:
Beerberry-extract 1500 mg
waarvan arbutine 300 mg

Ingrediënten: Beredruifbladextract (Arctostaphylos uva-ursi ( L. ) Spreng., bevat 20% arbutine), coatingmiddel hydroxypropylmethylcellulose (capsuleomhulsel), lossingsmiddel magnesiumzouten van vetzuren, katoenzaadolie


| | |
| --- | --- |
| Afmetingen van de capsules | |
| Lengte | 21,4 mm |
| Breedte | 7,64 mm |
---
Inhoud: 90 capsules

Aanbevolen consumptie:
Volwassenen nemen dagelijks 3 capsules bij de maaltijd, met veel water.
Niet geschikt voor zwangere vrouwen en vrouwen die borstvoeding geven.