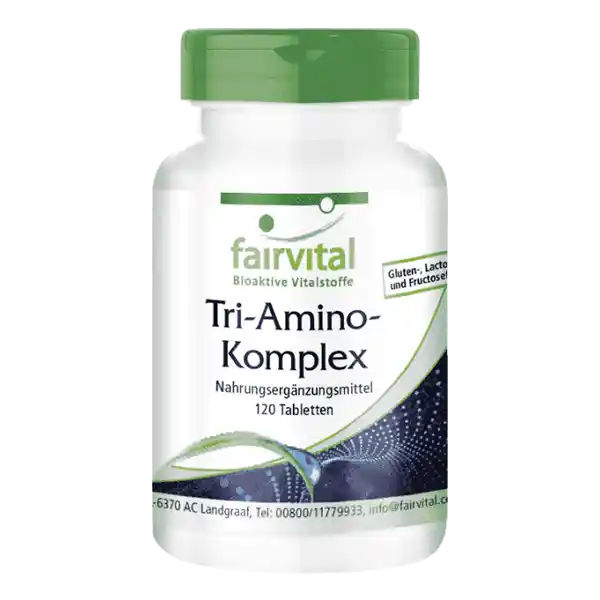 Quantity
Unit price
Base price
To

1

€29.95*

€170.17* / 1 kg
To

3

€28.45*

€161.65* / 1 kg
To

5

€26.95*

€153.13* / 1 kg
From

6

€25.45*

€144.60* / 1 kg
Product information "Tri-Amino-Complex - 120 tablets"
Tri-amino complex: arginine, lysine and ornithine
L-arginine, L-ornithine and L-lysine have various tasks in the human metabolism, which is why we have combined the three amino acids and offer them as a dietary supplement.
Essential amino acids
The essential amino acids are those that are required by the organism, but which it cannot produce itself.
The essential amino acids include lysine, leucine, isoleucine , methionine, threonine, phenylalanine, tryptophan and valine.
In addition to the essential amino acids, there are also semi-essential amino acids that the organism can manufacture itself. However, these occur in such small amounts that the body is dependent on an additional supply through food. These include: arginine, glycine, ornithine and citrulline.
Proteinogenic and non-proteinogenic amino acids
Moreover, amino acids are divided according to whether they can be used by the organism to produce proteins or not.
The proteinogenic amino acids include, for example, arginine, cysteine, glutamine, glycine and histidine , leucine, methionine, proline, tryptophan and tyrosine.
Theanine, ornithine, citrulline, GABA and thyroxine belong to the group of non-proteinogenic amino acids.
Role of L-arginine
The semi-essential, proteinogenic amino acid L-arginine is the main component of collagen (fiber protein) and elastin, the (elastic) fibers of connective tissue, skin and tendons. It is also found in cartilage, bones and teeth. The blood vessels also consist mainly of collagen and elastin.
The substance creatine, one of the energy-rich compounds in the muscles, is produced from L-arginine together with glycine and methionine.
L-arginine serves the body as a supplier of nitrogen, as it has the highest proportion of nitrogen (N) of all amino acids. In the organism, N is converted into nitrogen monoxide (NO), which is an important messenger substance in the human body.
L-lysine: building block of collagen
L-lysine is an essential, proteinogenic amino acid and thus plays an important role in the maintenance and regeneration of tissue and, like arginine, is involved in the synthesis of collagen and elastin.
This amino acid is also the building block for the formation of endogenous L-carnitine.
L-Ornithine
L-Ornithine, like arginine, plays an important role in the urea cycle and the two amino acids can easily be converted into each other in the body. L-ornithine is freely contained in many plants. This amino acid itself is not a protein building block (non-proteinogenic).
Amino acid complex from Fairvital
useful combination of arginine, lysine and ornithine
Involved in collagen and elastin synthesis
vegetarian and vegan
gluten-free, lactose-free, fructose-free
without magnesium stearate and silicon dioxide
Application area:

Beauty

, Sport

Compatibility:

Fish-free

, Fructose free

, Lactose free

, Nut free

, Soy free

, Vegan

, Without gluten

Dosage form:

Tablets

Vital substances:

Amino acids
---
4 Tabletten enthalten:
L-Arginin HCl 1700mg
davon L-Arginin 1412mg
L-Ornithin HCl 1156mg
davon L-Ornithin 900mg
L-Lysin HCl 1500mg
davon L-Lysin 1200mg
Zutaten: L-Arginin Hydrochlorid, L-Lysin Hydrochlorid, Füllstoff mikrokristalline Cellulose, L-Ornithin Hydrochlorid
| | |
| --- | --- |
| Abmessungen der Tabletten | |
| Länge | 21mm |
| Breite | 10mm |
---
Inhalt: 120 Tabletten

Verzehrempfehlung:
Erwachsene täglich 4 Tabletten mit viel Wasser.
Nicht geeignet für schwangere und stillende Frauen.