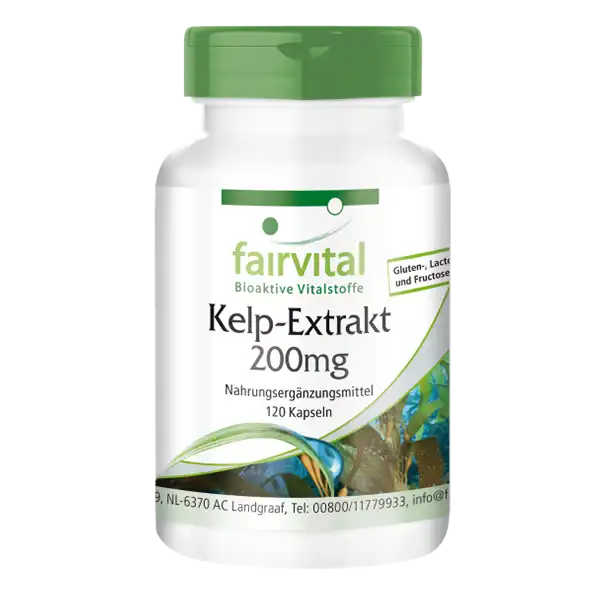 Quantity
Unit price
Base price
To

1

€18.95*

€379.00* / 1 kg
To

3

€17.95*

€359.00* / 1 kg
To

5

€16.95*

€339.00* / 1 kg
From

6

€15.95*

€319.00* / 1 kg
Product information "Kelp extract 200mg - 120 Capsules"
Sea kelp supplement
This dietary supplement contains a high-dose kelp extract
standardised to 0.15% iodine
. This corresponds to
300µg iodine per tablet
and daily dose and covers 200% of the daily requirement.
Sea kelp as a natural source of iodine
The brown alga Kelp is considered to be one of the most nutritious algae and was therefore at times even called "superfood". In addition to
B vitamins, calcium, copper, sodium, sulphur and zinc
, it possesses an outstanding amount of the essential trace element iodine.
Iodine for the thyroid
The best known function of iodine is that it
supports the thyroid
by contributing to normal
production of thyroid hormones
.
Iodine ingested through food or dietary supplements is absorbed in the intestines and then built into the thyroid hormones T3 and T4.
The special thing about iodine
from sea kelp is the form in which it is present:
monoiodotyrosine
. This is an amino acid produced from tyrosine by iodination and is the
direct precursor of the thyroid hormones T3 and T4
.
Further functions of iodine
In connection with the thyroid, iodine also supports the
energy metabolism
, in which the macronutrients (carbohydrates, fats and proteins) are converted into energy. In addition to the importance of iodine for the thyroid, the trace element is needed for the
function of the nervous system and cognitive abilities
. Cognitive functions include intelligence, thinking, perception, speech and memory.
If the skin is dry or flaky
, it may also be helpful to have the iodine level checked, as an iodine deficiency can lead to skin problems.
The sea kelp supplement has the following advantages
highly dosed
standardised to 0.15% iodine
equivalent to 300µg iodine per tablet
supports the thyroid and the nervous system
for beautiful skin
promotes the cognitive functions
contributes to the energy metabolism
small tablets, easy to swallow
gluten-free, lactose-free, fructose-free
without magnesium stearate and silicon dioxide
Application area:

Beauty

, Energy

, Memory

Compatibility:

Fish-free

, Fructose free

, Lactose free

, Nut free

, Soy free

, Vegan

, Without gluten

Dosage form:

Capsules

Vital substances:

Minerals

, Plant extracts
---
Eine Kapsel enthält / NRV*:
Kelp-Extrakt 200mg
davon Jod 300µg / 200%
L-Leucin 30mg

*NRV: Nutrient reference values (Referenzmengen) laut Verordnung (EU) Nr. 1169/2011

Ingredients: Kelp dry extract (Fucus vesiculosus L., contains 0.15% iodine), filler microcrystalline cellulose, coating agent hydroxypropylmethylcellulose (capsule shell), L-leucine, anti-caking agent rice husk concentrate.
| | |
| --- | --- |
| Abmessungen der Kapseln | |
| Länge | 19,4mm |
| Breite | 6,91mm |
Not suitable for pregnant and breastfeeding women.
---
Inhalt: 120 Kapseln

Verzehrempfehlung:
Erwachsene täglich 1 Kapsel zu einer Mahlzeit mit viel Wasser.

Nicht geeignet für schwangere und stillende Frauen.