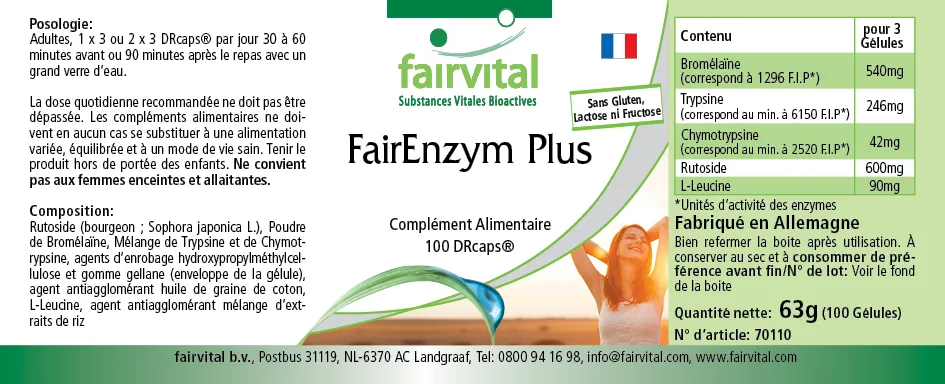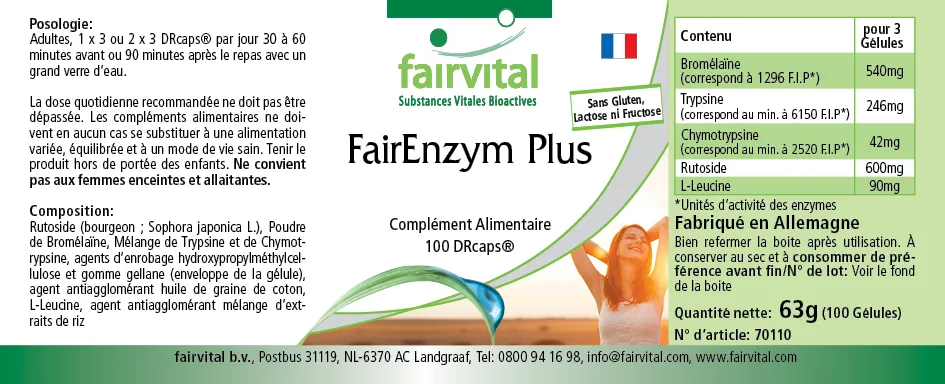 Quantity
Unit price
Base price
To

1

€38.95*

€660.17* / 1 kg
To

3

€37.45*

€634.75* / 1 kg
To

5

€35.95*

€609.32* / 1 kg
From

6

€34.45*

€583.90* / 1 kg
Product information "FairEnzym Plus - 100 DRcaps®"
FairEnzym Plus is a dietary supplement based on rutoside, bromelain, trypsin and chymotrypsin in DRcaps® for a timed release
Plant based bromelain is found in pineapple plants. It's an enzyme blend typically derived from the pineapple juice or stem.
Along with plant-based rutoside, it helps the body support itself.
Rutin
The rutin, or rutoside, belongs to the group of polyphenols and is part of the secondary plant substances. In nature, it occurs mainly in the buds of the Japanese pagoda tree or in buckwheat leaves. This plant substance is also one of the most efficient antioxidants.
Trypsin and Chymotrypsin
Trypsin is also an enzyme and can be found in nature, for example in fungi or cell cultures. It is also normally made by the pancreas. The basic idea of ​​this enzyme is the regulated cleavage of protein molecules. Thus, trypsin not only promotes digestion, but also helps the body to process the nutrients taken in from food faster and better. Trypsin only has to split the individual molecules.
It also contains chymotrypsin, which is structurally similar to trypsin and is also able to split proteins. The difference between the two enzymes is that they break apart various amino acids that make up the proteins.
While trypsin can cleave basic amino acids such as L-arginine and L-lysine, Chymotrypsin Aromatic amino acids such as tyrosine, phenylalanine and tryptophan, but also leucine and methionine.
FairEnzym Plus in DRCaps®
DRCaps® are innovative vegetable cellulose capsules that protect the ingredients of dietary supplements from gastric acid. As a result, no chemical additives, solvents or coatings are required to make the product enteric resistant.
Enzymes in the Fairvital complex
for your own well-being
in DRCaps for a timed release
small capsules, easy to swallow
gluten-free, lactose-free, fructose-free
without magnesium stearate and silicon dioxide
Tip: If you eat the capsules on an empty stomach, the enzymes are available to support various processes.
Application area:

Digestion

, Gewicht

, Joints

, Tissue Health

, Weight Loss

Compatibility:

Fish-free

, Fructose free

, Lactose free

, Nut free

, Soy free

, Without gluten

Dosage form:

Capsules

Vital substances:

Enzymes

, Plant extracts
---
Drei DRcaps® enthalten:
Bromelain 540mg
entspricht 1296 F.I.P*
Trypsin 246mg
entspricht mind. 6150 F.I.P.*
Chymotrypsin 42mg
entspricht mind. 2520 F.I.P.*
Rutosid 600mg

*Enzymaktivitäts-Einheiten

Zutaten: Rutosid, Bromelain-Pulver, Trypsin-Chymotrypsin-Mischung, Überzugsmittel Hydroxypropylmethylcellulose (Kapselhülle), Überzugsmittel Gellan (Kapselhülle), Baumwollsamenöl, L-Leucin
| | |
| --- | --- |
| Abmessungen der Kapseln | |
| Länge | 21,4mm |
| Durchmesser | 7,64mm |
---
Inhalt: 100 DRcaps®

Verzehrempfehlung:
Erwachsene täglich 1 x 3 oder 2 x 3 DRcaps® 30 bis 60 Minuten vor oder 90 Minuten nach einer Mahlzeit mit viel Wasser.