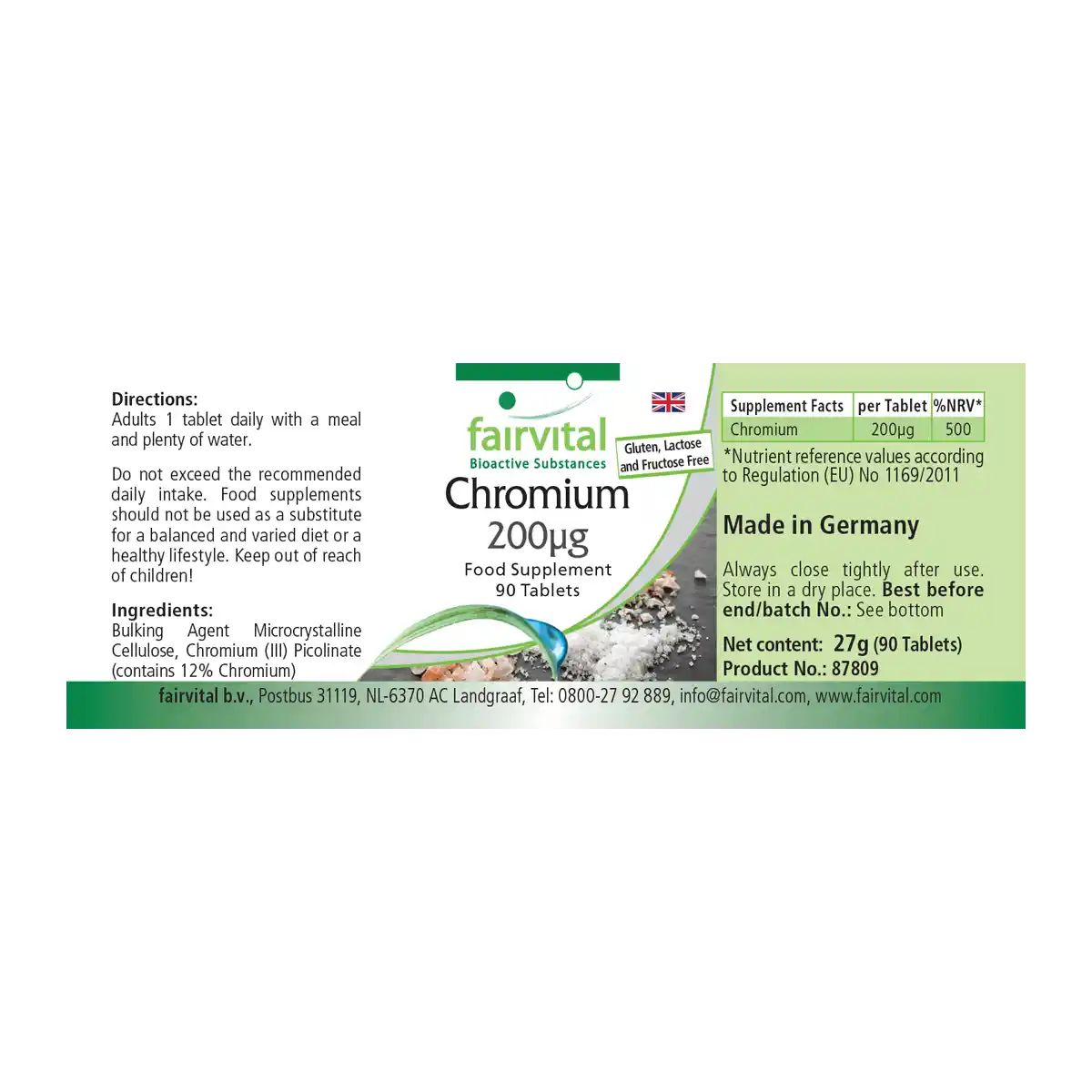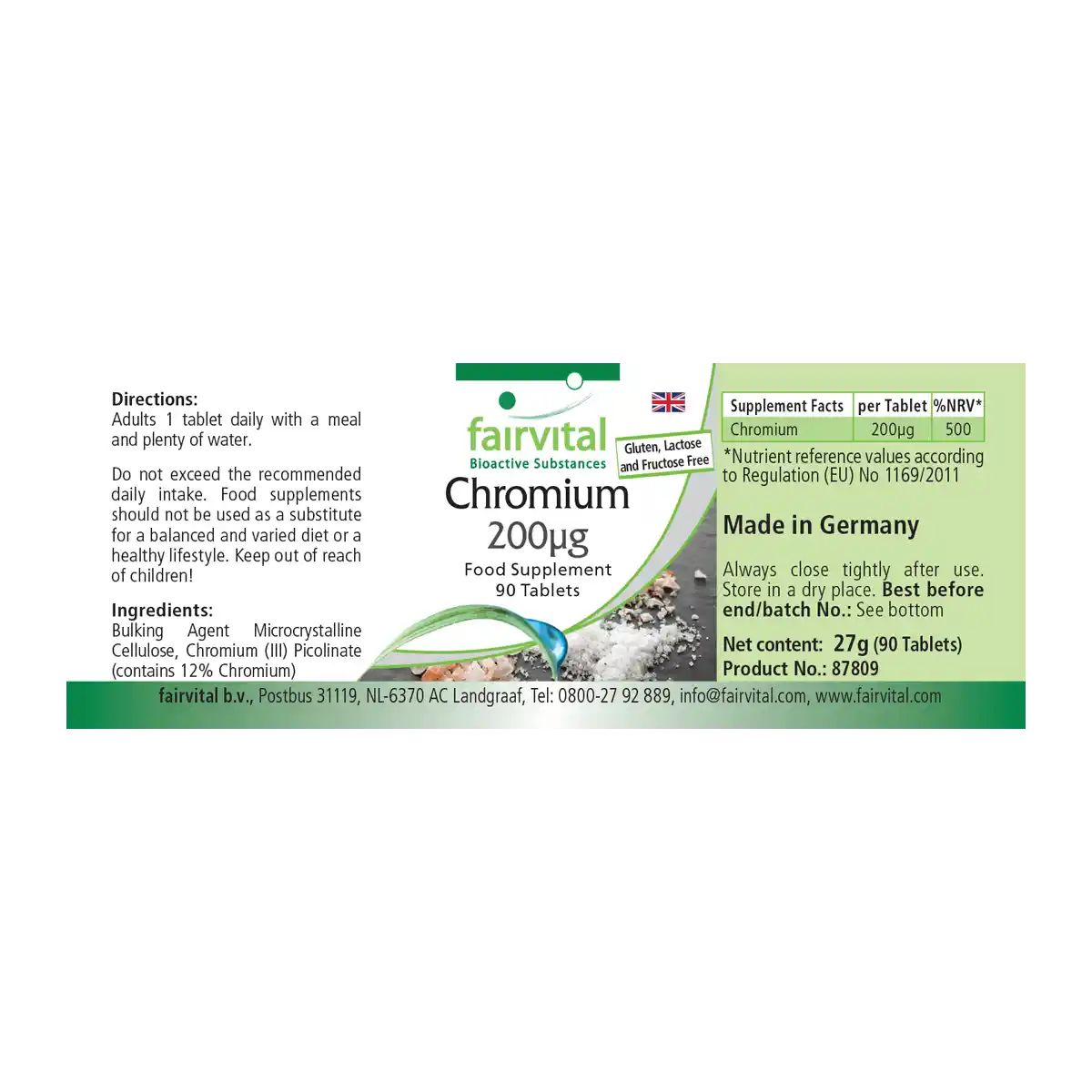 Quantity
Unit price
Base price
To

1

€29.95*

€332.78* / 1 kg
To

3

€28.45*

€316.11* / 1 kg
To

5

€26.95*

€299.44* / 1 kg
From

6

€25.45*

€282.78* / 1 kg
Product information "Chromium 200µg - 300 tablets"
Vegan bulk pack of high-dose chromium (III) picolinate for 300 days
The trace element chromium is essential for humans. That means it has to be ingested through food. Chromium is mainly found in meat, kidneys and liver, as well as in whole grain products and cheese.
Chromium contributes to normal macronutrient metabolism and the maintenance of normal blood sugar levels.
Chrome for metabolism
Chrome encourages the metabolism of macronutrients (carbohydrates, protein and lipids). However, it is best known for its role in the natural regulation of blood sugar levels in the body. Without chromium, insulin would be ineffective. The influence of chromium on the macronutrient metabolism and the blood sugar level has been confirmed by the European Food Safety Authority (EFSA).
Chrome for blood sugar levels
The trace element chromium is an important component of the glucose tolerance factor (GTF). It consists of trivalent chromium, niacin and glutathione. The GTF promotes the attachment of insulin to the cell walls so that glucose (sugar) is more easily absorbed into the cells. The rapid processing automatically reduces the sugar and triglyceride levels in the blood.
Bioavailability of chromium(III) picolinate
Chrome picolinate is the so-called biologically active form of chromium. In the form of trivalent chromium, it is an effective micronutrient for the human organism.
Advantages of Fairvital chromium tablets
for a normal blood sugar level
contributes to the utilization of carbohydrates, proteins and fats
small tablets, easy to swallow
vegetarian and vegan
Bulk pack for 300 days
highly dosed and biologically active
gluten-free, lactose-free, fructose-free
Without magnesium salts of fatty acids and silicon dioxide
Application area:

Blood sugar level

, Gewicht

Compatibility:

Fish-free

, Fructose free

, Lactose free

, Nut free

, Soy free

, Vegan

, Without gluten

Dosage form:

Tablets

Vital substances:

Minerals
---
Eine Tablette enthält / NRV*:
Chrom 200µg / 500%
* NRV: Nutrient reference values (Referenzmengen) laut Verordnung (EU) Nr. 1169/2011
Zutaten: Füllstoff mikrokristalline Cellulose, Chrom-(III)-Picolinat, Calciumsalze der Orthophosphorsäure
Abmessungen der Tabletten
Länge
10mm
Breite
5mm
---
Inhalt: 300 Tabletten

Verzehrempfehlung:
Erwachsene täglich 1 Tablette zu einer Mahlzeit mit viel Wasser.