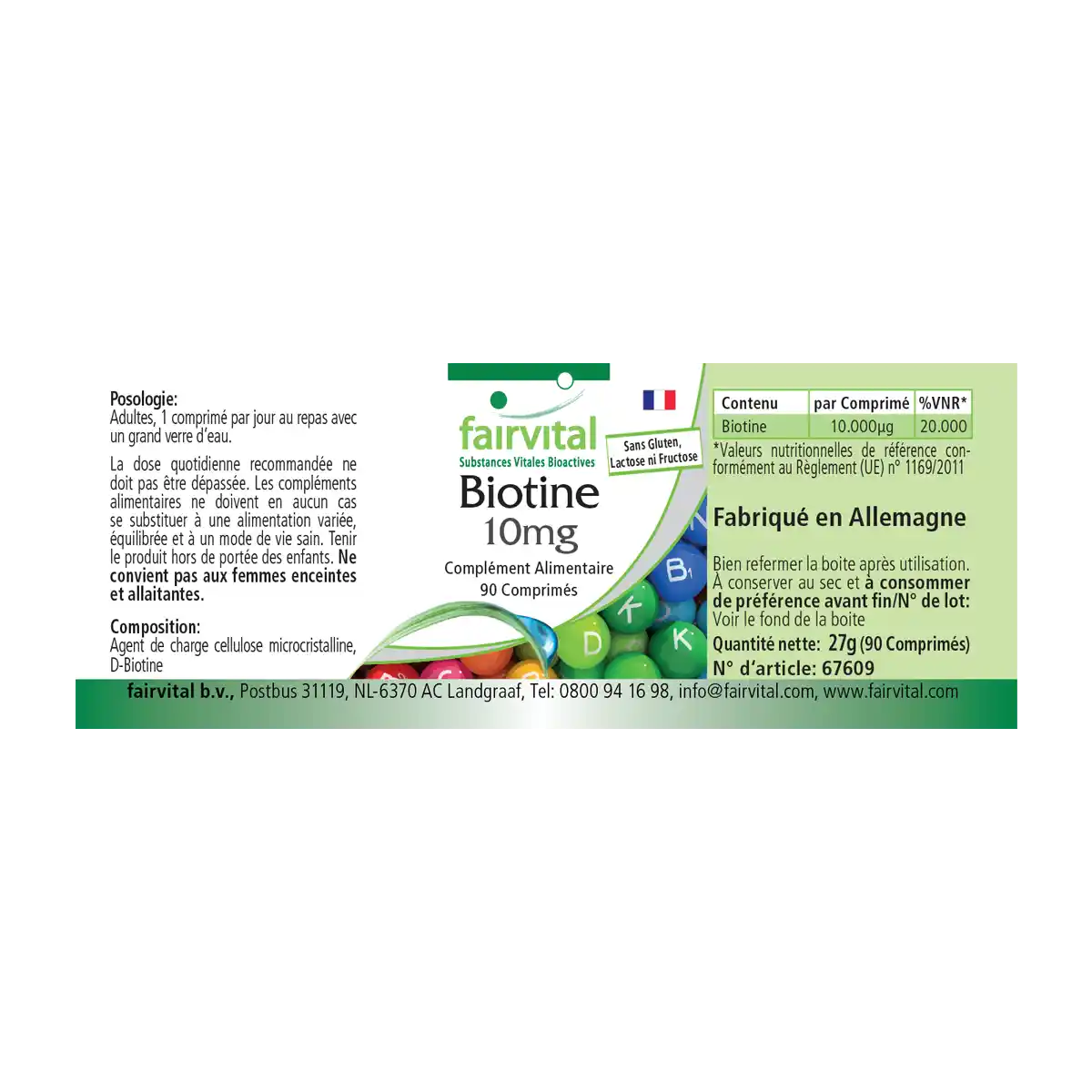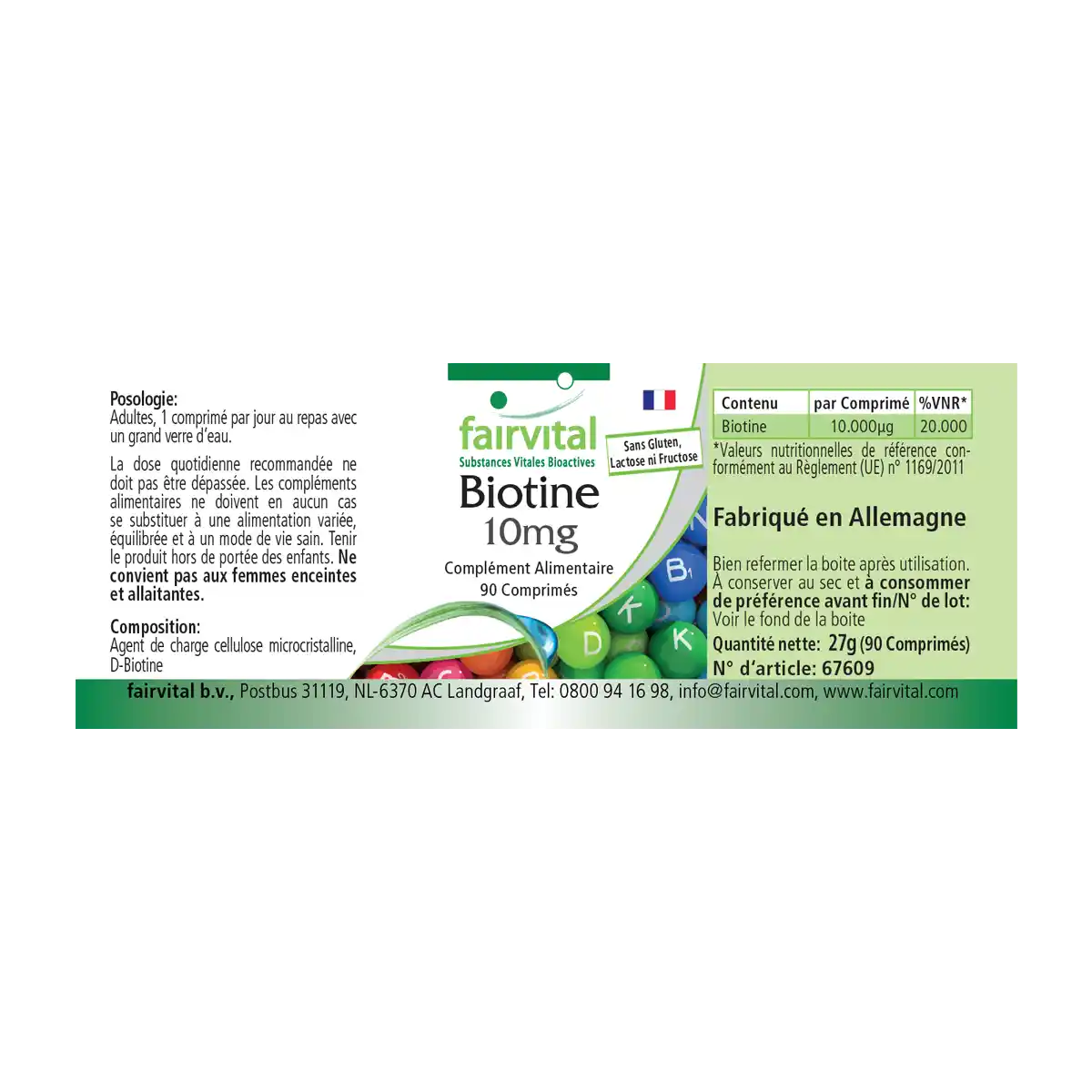 Quantity
Unit price
Base price
To

1

€17.95*

€664.81* / 1 kg
To

3

€16.95*

€627.78* / 1 kg
To

5

€15.95*

€590.74* / 1 kg
From

6

€14.95*

€553.70* / 1 kg
Product information "Biotin 10mg - 90 tablets"
High-dose biotin for full, shiny hair and beautiful skin
Biotin, also called vitamin B7, vitamin H or coenzyme R, is one of the water-soluble B vitamins.
Biotin and metabolism
Numerous metabolic processes are dependent on biotin, the conversion of fatty acids, carbohydrates and proteins (macronutrients) in particular. In the fatty acid metabolism, biotin acts a coenzyme which forms and breaks down fatty acids, but it also plays an important role in the cholesterol metabolism. In the protein metabolism, biotin builds the amino acid L-leucine and regulates the process of this metabolism. In the carbohydrate metabolism, biotin promotes the release of energy from carbohydrates which can be important for the strengthening of the physical and mental performance and can show a positive effect on increased mental and physical strain.
Biotin for hair and skin
When talking about biotin, the first things that come to mind are hair and skin, because it is commonly known that biotin is of special importance for healthy beautiful hair, strong nails and beautiful skin.
Although brittle hair is often due to external influences, a vitamin deficiency of the food can cause dull hair. Preferably recommended is the vitamin biotin. It is essential for the formation of the horn substance keratin and therefore important for a healthy growth of skin and hair.
High-dose biotin
People who are on a diet, have lots of stress or a high nicotine and alcohol consumption, should make sure they are sufficiently supplied with biotin. Pregnant women, breast-feeding women, elderly people and athletes have also an increased requirement.
Benefits of the biotin-tablets by Fairvital
contributes to the maintenance of normal hair, skin and mucous membranes
contributes to normal macronutrient metabolism
contributes to normal energy-yielding metabolism
contributes to normal functioning of the nervous system and to normal psychological function
highly dosed with 10mg biotin per tablet
vegetarian and vegan
gluten-free, lactose-free, fructose-free
without magnesium stearate and silicon dioxide
Application area:

Beauty

, Energy

, Hair

, Psyche

Compatibility:

Fish-free

, Fructose free

, Lactose free

, Nut free

, Soy free

, Vegan

, Without gluten

Dosage form:

Tablets

Vital substances:

B vitamins
---
One tablet contains / NRV*:
Biotin 10,000g / 20,000%
* NRV: Nutrient reference values (reference amounts) according to Regulation (EU) No. 1169/2011

Ingredients: filler microcrystalline cellulose, D-biotin
Dimensions of the tablets
Length
9mm
Width
5mm
---
Contents: 90 tablets

Recommended consumption:
Adults 1 tablet daily with a meal and plenty of water.
Not suitable for pregnant and breastfeeding women.