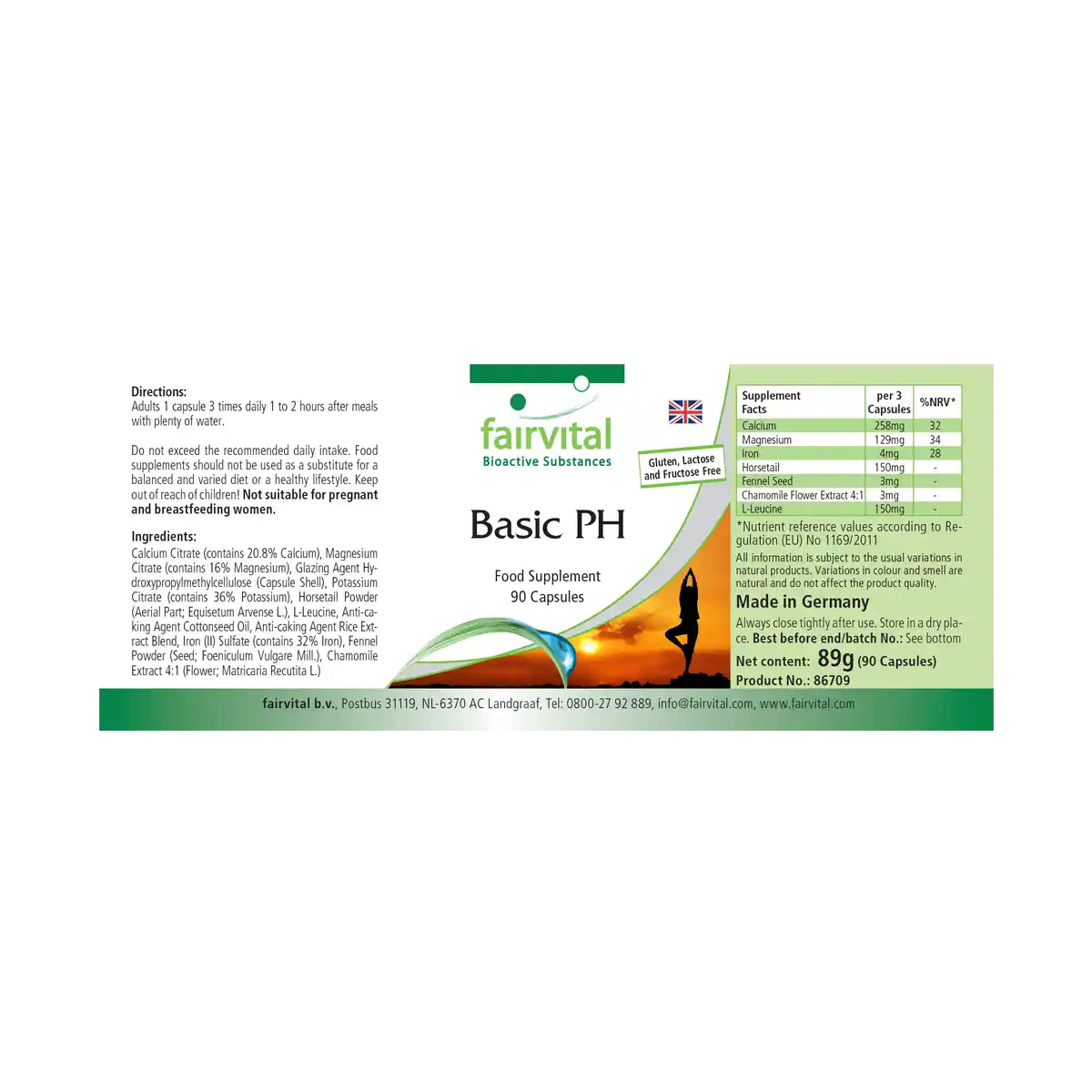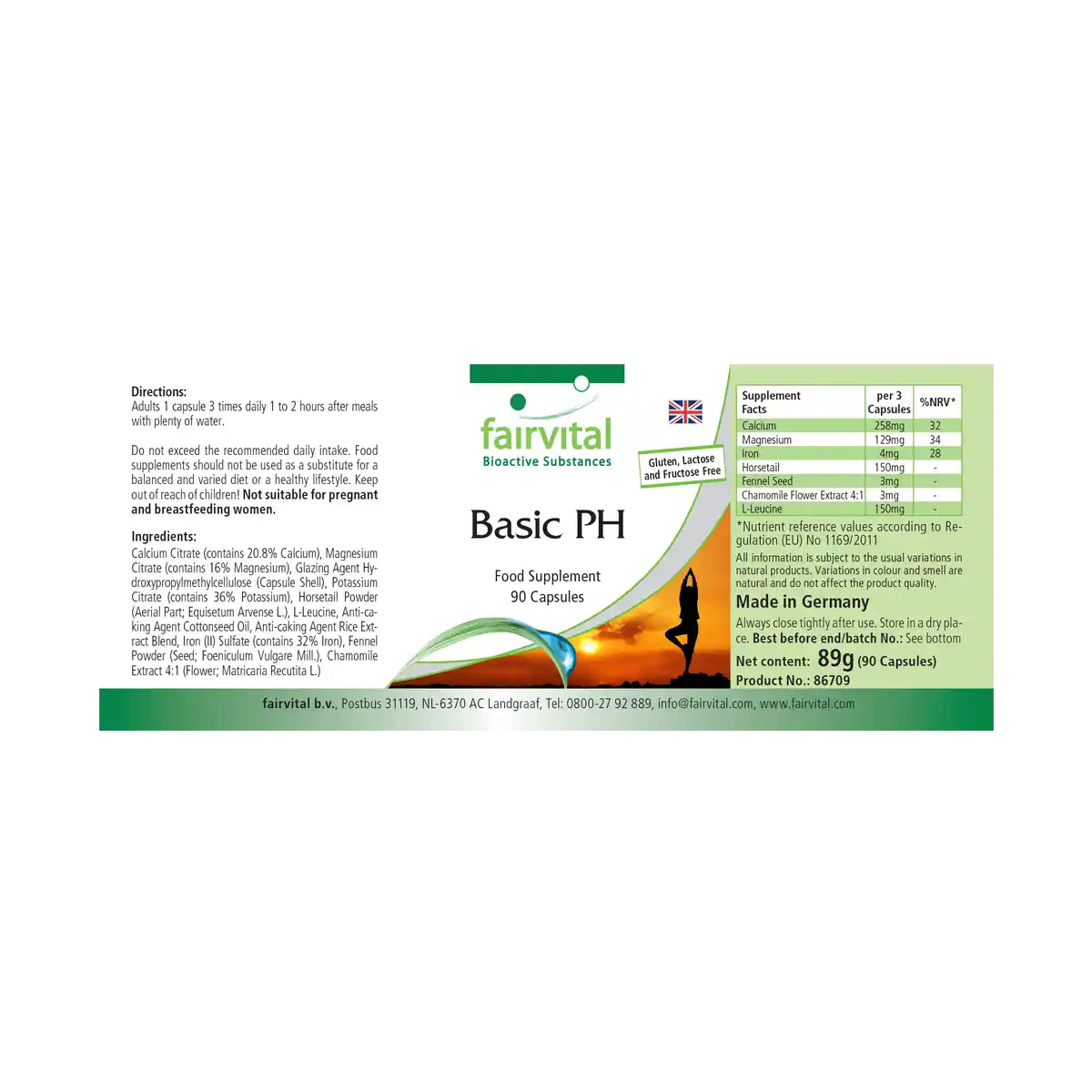 Quantity
Unit price
Base price
To

1

€13.95*

€156.74* / 1 kg
To

3

€13.45*

€151.12* / 1 kg
To

5

€12.95*

€145.51* / 1 kg
From

6

€12.45*

€139.89* / 1 kg
Product information "Basic PH - 90 capsules"
Basic PH: Just don't get mad!
The acid-base balance of the human body is a very sensitive system that uses the body's own regulatory mechanisms (homeostasis) to ensure that the pH value of the blood remains constant. The body uses so-called physiological buffers that are naturally present in blood plasma. They include the phosphate buffer, the bicarbonate buffer, and the protein buffer. In addition, the kidneys, the liver and the Lungs involved in the regulation of the pH value.
One factor that can primarily influence the acid-base balance is nutrition. But it is also dependent on the acid-base production in the stomach and heavy physical work or sporting activity.
A balanced acid-base balance is essential for a healthy metabolism
The metabolic processes in the organism can only run optimally with a balanced acid-base ratio. This pH range for the biochemical reactions in our body is therefore very limited. Outside of these values, they may only run insufficiently or even come to a complete standstill.
The pH value is a measure of the strength of the acidic (0-7) or basic ( 7-14) Effect of an aqueous solution, where a value of 7 corresponds to "neutral". The physiological pH of blood in healthy people is 7.4 (+/- 0.05).
When the pH changes, the equilibrium shifts either to the acidic range or to the basic range. While free H+ ions (hydrogen ions) are present on the acidic side, OH ions (hydroxide ions) are present on the basic side. Hydroxide ions bind positively charged particles of hydrogen ions to form water molecules, which increases the pH accordingly. Bases are, so to speak, the opponents of acids and can neutralize them.
The balance between acids and bases plays an important role for a normal metabolism, as it is crucial for many processes in the body. This includes, for example, the structure and function of proteins, the permeability (permeability) of membranes, the distribution of electrolytes and the function of connective tissue.
Advantages of the vegan Fairvital base powder capsules
Basic PH from Fairvital has a beneficial and immediate effect if you use it after a sporting activity, for example. With calcium, magnesium, iron, horsetail, fennel and chamomile.
alkaline excess combination of vital substances
useful combination
vegetarian and vegan
gluten-free, lactose-free, fructose-free
without magnesium stearate and silicon dioxide
Application area:

PH value

, Sport

, Weight Loss

Compatibility:

Fish-free

, Fructose free

, Lactose free

, Nut free

, Soy free

, Without gluten

Dosage form:

Capsules

Vital substances:

Minerals

, Plant extracts
---
Three capsules Basic PH included / NRV*:
Calcium 258mg / 32%
Magnesium 129mg / 34%
Iron 4mg / 28%
Horsetail herb 150mg
Fennel seeds 3mg
Chamomile flower extract 4:1 3mg
L-Leucine 150mg
* NRV: *Nutrient reference values ​​(reference amounts) according to EU regulation (No. 1169/2011).
Ingredients: calcium citrate (contains 20.8% calcium), magnesium citrate (contains 16% magnesium), coating agent hydroxypropylmethylcellulose (capsule shell), potassium citrate (contains 36% potassium), horsetail powder (Equisetum arvense L.), L-leucine, cottonseed oil, rice extract mixture, ferrous sulfate (contains 32% iron), fennel seed powder (Foeniculum vulgare Mill.), chamomile flower Extract 4:1 (Matricaria recutita)
| | |
| --- | --- |
| Dimensions of the capsules | |
| Length | 23.3mm |
| Width | 8.53mm |
---
Content: 90 capsules

Recommended consumption:
Adults 1 capsule 3 times a day 1 to 2 hours after meals with plenty of water.
Not suitable for pregnant and breastfeeding women.