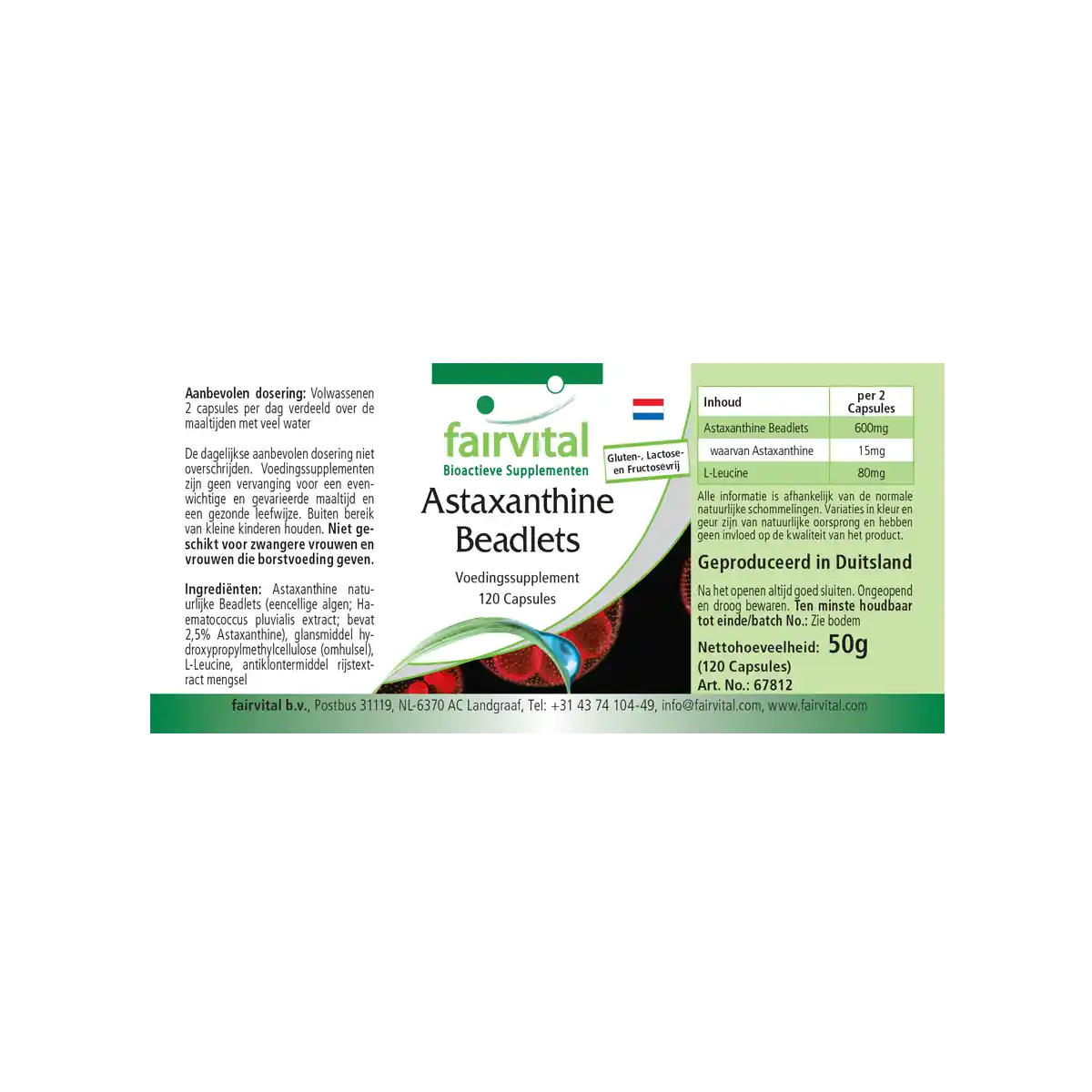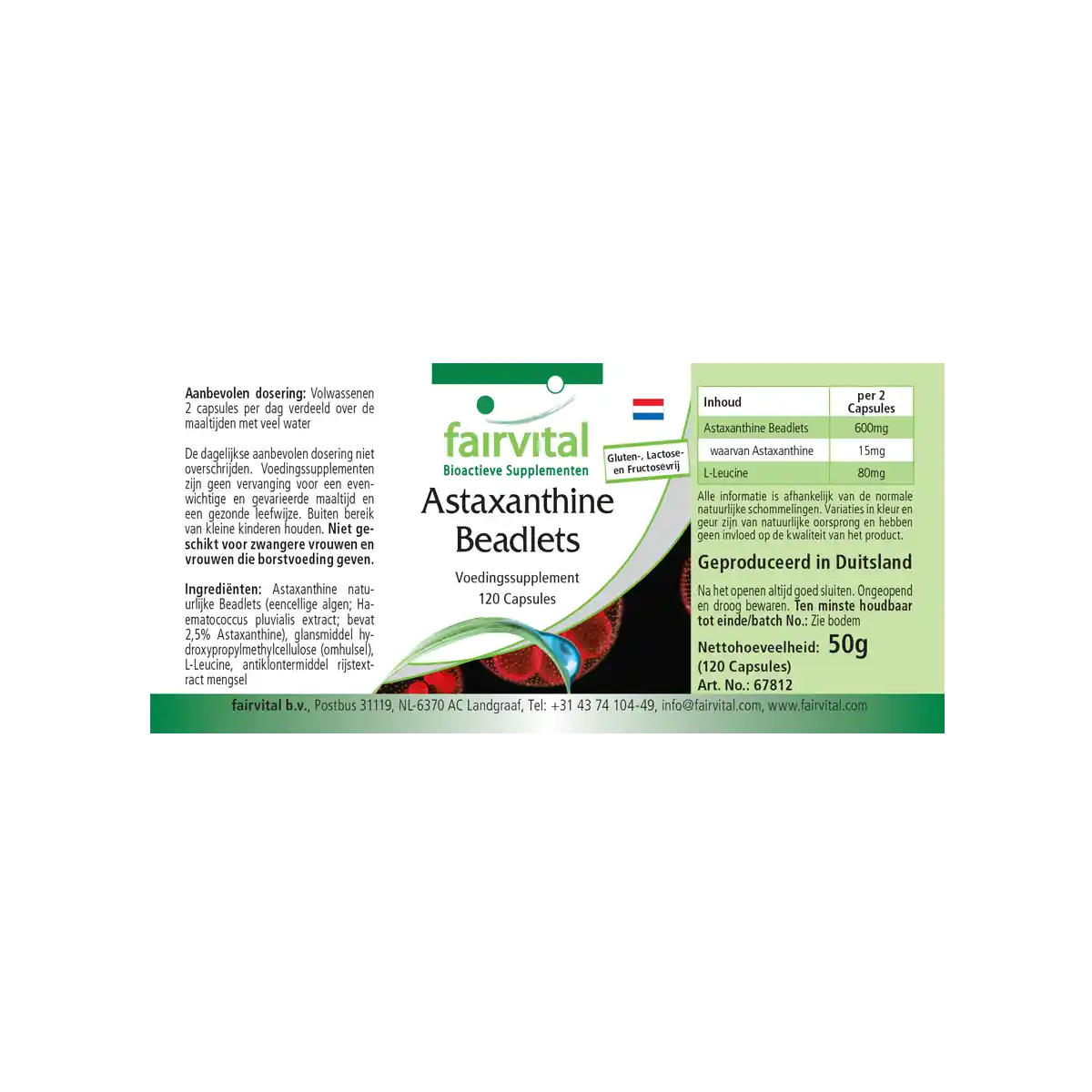 Quantity
Unit price
Base price
To

1

€49.95*

€999.00* / 1 kg
To

3

€48.45*

€969.00* / 1 kg
To

5

€46.95*

€939.00* / 1 kg
From

6

€45.45*

€909.00* / 1 kg
Product information "Astaxanthin beadlets microencapsulated - 120 capsules"
Beadlets: natural & microencapsulated
The astaxanthin in this product is cultivated in a hermetically sealed system. The used technology guarantees particularly high control standards with which microbiological contamination, agricultural residues and environmental influences can be excluded.
Astaxanthin in its free form is prone to oxidation, therefore the astaxanthin in this product is microencapsulated and especially stable.
Strong antioxidant
Because its antioxidant properties are 6000 times stronger that vitamin C and 550 times stronger than vitamin E, astaxanthin is considered as the strongest known carotenoid of the entire plant world.
especially stable due to microencapsulation
highly dosed with 15mg per daily intake of 2 capsules
antioxidant against free radicals
derived from Haematococcus pluvialis
strongest carotenoid of the entire plant world
small capsules, easy to swallow
gluten-free, fructose-free
without magnesium stearate and silicon dioxide
How does astaxanthin work?
Early on, the fresh water alga Haematococcus pluvalis has aroused the researchers' interest. In 1797 the French scientist Girod-Chantrans investigated the approx. 0.1mm small green alga.
In case of an exposure to strong sunlight or a state of nutrient deficiency, it forms a blood-red pigmentation, for which the astaxanthin is responsible. This protective function makes it possible for the alga to survive without food or water for more than 40 years. As soon as there is enough food and the weather conditions improve, the alga wakes up from its deep sleep and returns to its green active state.
In biotopes such as ponds, small waterholes and even stoups, which are inhabited by the micro alga, a spectacular blood-red colour can occasionally be admired due to the alga's protective properties.
Studies about astaxanthin
The effect of astaxanthin on the skin appearance has been investigated in a study during which the test persons consumed 2 milligrams of astaxanthin daily. The skin was tested at three points in time to determine possible changes: at the beginning of the study, after two weeks and after four weeks.
After only two weeks results could be documented. Improvements of the skin appearance could be observed in seven areas and after two more weeks dry skin showed a higher moisture content, less small lines, less pimples and a more regular fat content.
Additionally, the test persons reported less swellings under the eyes and a higher elasticity of the skin. In the control group, which didn't consume astaxanthin, no effects could be documented. (Cosmetic benefits of astaxanthin on humans subjects*, Yamashita, E. 2002; Tominaga, K. 2012)
Application area:

Anti-Aging

, Eyes

, Heart & Vessels

, Immune system

, Tissue Health

Compatibility:

Fish-free

, Fructose free

, Lactose free

, Nut free

, Soy free

, Vegan

, Without gluten

Dosage form:

Capsules

Vital substances:

Antioxidants

, Carotenoids

, Plant extracts
---
Two capsules contain:
Astaxanthin Beadlets 600mg
of which Astaxanthin 15mg
L-Leucine 80mg

Ingredients: Astaxanthin (Beadlets, contain 2.5% astaxanthin), coating agent hydroxypropylmethylcellulose, L-leucine
| | |
| --- | --- |
| Dimensions of the capsules | |
| Length | 19.4mm |
| Width | 6.91mm |
---
Contents: 120 capsules

Recommended consumption:
Adults take 2 capsules daily with meals, with plenty of water.
Not suitable for pregnant and breastfeeding women.