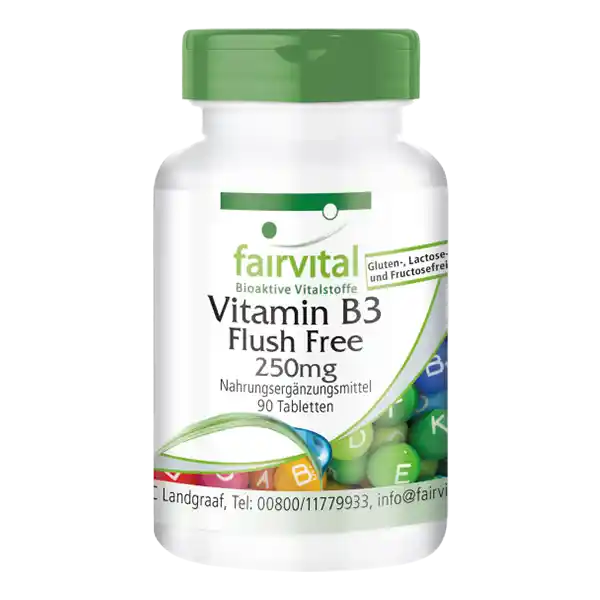 Quantity
Unit price
Base price
To

1

€13.95*

€236.44* / 1 kg
To

3

€13.45*

€227.97* / 1 kg
To

5

€12.95*

€219.49* / 1 kg
From

6

€12.45*

€211.02* / 1 kg
Product information "Vitamin B3 Flush Free 250mg - 90 Tablets"
Vitamin B3: the 3 forms
Vitamin B3, also known as
niacin
, is a water-soluble vitamin of the B group. It is present in 3 forms in foods and dietary supplements:
nicotinic acid, nicotinamide and inositol hexanicotinate
, whereby only the latter two forms can be found in supplements.
What does Flush Free mean?
Vitamin B3 in the form of nicotinic acid or high-dose nicotinamide can cause the so-called
"niacin flush"
in sensitive individuals, which can manifest itself in
redness of the skin
on the face and arms and a resulting
feeling of warmth
. This effect is due to the vasodilatory properties of B3.
Vitamin B3 Flush Free from Fairvital containing
inositol hexanicotinate
is suitable for all those who find the niacin flush unpleasant and wish to avoid it. This form of the vitamin is characterised by a slow release of niacin, which means that there is no flush.
Function of vitamin B3
contributes to normal energy-yielding metabolism
contributes to normal functioning of the nervous system
contributes to normal psychological function
contributes to the maintenance of normal skin and mucous membranes
contributes to the reduction of tiredness and fatigue
Good reasons to buy vitamin B3 flush free tablets
highly dosed with a daily dosage of 500mg (2 tablets)
vitamin B3 without flush
for the skin and mental balance
vegetarian and vegan
without magnesium stearate and silicon dioxide
Application area:

Beauty

, Energy

, Psyche

Compatibility:

Fish-free

, Fructose free

, Lactose free

, Nut free

, Soy free

, Vegan

, Without gluten

Dosage form:

Tablets

Vital substances:

B vitamins
---
Zwei Tabletten enthalten / NRV*:
Vitamin B3 500mg / 3125%
* NRV: Nutrient reference values (Referenzmengen) laut Verordnung (EU) Nr. 1169/2011
Zutaten: Füllstoff mikrokristalline Cellulose, Inositolhexanicotinat (enthält 80% Vitamin B3), Calciumsalze der Orthophosphorsäure
Abmessungen der Tabletten
Länge
16mm
Breite
11,5mm
---
Inhalt: 90 Tabletten

Verzehrempfehlung:
Erwachsene täglich 1-2 Tabletten zu den Mahlzeiten mit viel Wasser.