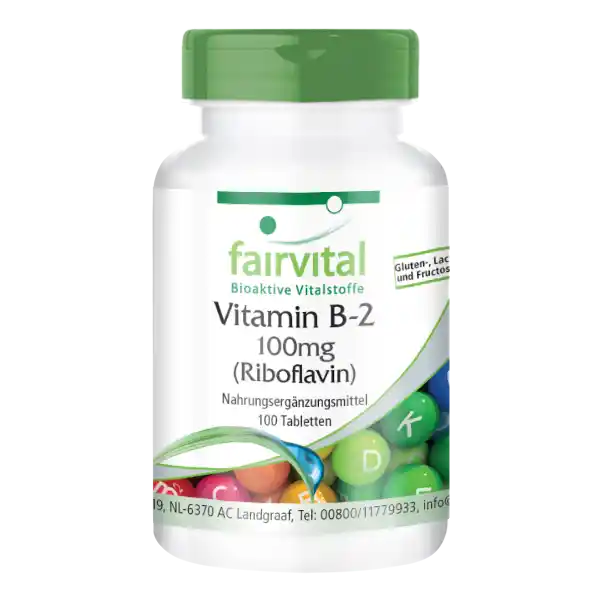 Quantity
Unit price
Base price
To

1

€17.95*

€263.97* / 1 kg
To

3

€16.95*

€249.26* / 1 kg
To

5

€15.95*

€234.56* / 1 kg
From

6

€14.95*

€219.85* / 1 kg
Product information "Vitamin B-2 Riboflavin - 100 tablets"
High dosage of riboflavin
The vitamin B2 tablets from Fairvital are highly dosed and contain 100mg per tablet and daily dose.
Riboflavin is one of the 8 water-soluble vitamins from the vitamin B complex.
Riboflavin can be produced by plants and microorganisms themselves, but not by humans and animals. These are dependent on supply through food. Also, due to its water solubility, riboflavin cannot be stored by the body. Any unused excess is immediately excreted in the urine. This can therefore briefly show a harmless, intense yellow color.
Vitamin B2 in food
Riboflavin is found in both animal and plant foods. Examples of animal-based foods include milk, dairy products, fish, meat and eggs.
Good plant-based B2 sources include broccoli, spinach or asparagus and whole grain products.
Due to its yellow colour, it is often used as a colouring in the food industry, e.g. in pudding, ice cream, cheese or cornflakes.
Riboflavin for more energy
All living things can process B2 and turn it into biologically active forms. Riboflavin is part of the respiratory chain (ATP), which is a part of energy metabolism and is needed in each of our 70 trillion body cells. Due to its role in energy production, it can reduce tiredness and fatigue.
The vitamin is a building block of various co-enzymes and plays an important role in the metabolism of carbohydrates, proteins and fats.
As an antioxidant it can contribute to cell protection by neutralizing free radicals.
Vitamin B2 Riboflavin also supports sight, skin and mucous membranes and is essential for the nervous system, the formation of red blood cells and the iron metabolism.
Vitamin B2 tablets from Fairvital
highly dosed
100mg riboflavin per tablet and daily dose
Involved in energy production from carbohydrates and fats
contributes to cell protection
supports vision
essential for skin and mucous membranes
encourages the functioning of the nervous system
small tablets, easy to swallow
vegetarian and vegan
gluten-free, lactose-free, fructose-free
without magnesium stearate and silicon dioxide
Application area:

Beauty

, Energy

, Eyes

, Tissue Health

Compatibility:

Fish-free

, Fructose free

, Lactose free

, Nut free

, Soy free

, Vegan

, Without gluten

Dosage form:

Tablets

Vital substances:

B vitamins
---
Eine Tablette enthält / NRV*:
Vitamin B2 100mg / 7142%

Zutaten: Füllstoff mikrokristalline Cellulose, Riboflavin, Calciumsalze der Orthophosphorsäure

* NRV: Nutrient reference values (Referenzmengen) laut EU-Verordnung
| | |
| --- | --- |
| Abmessungen der Tabletten | |
| Länge | 12mm |
| Breite | 7mm |
---
Inhalt: 100 Tabletten

Verzehrempfehlung:
Erwachsene täglich 1 Tablette zu einer Mahlzeit mit viel Wasser.