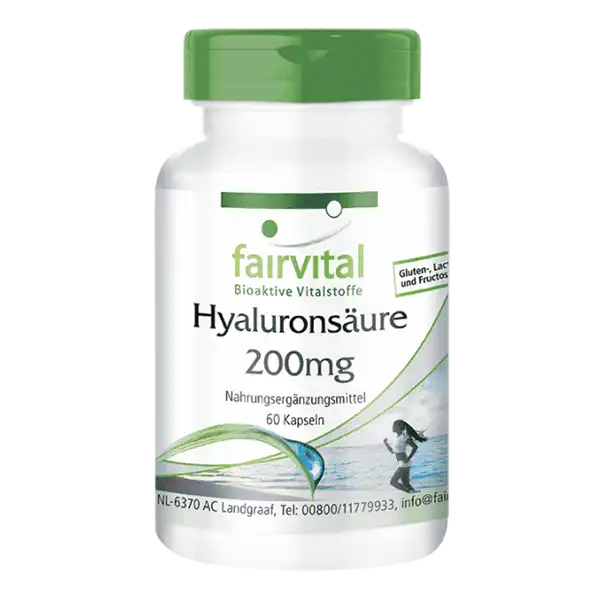 Quantity
Unit price
Base price
To

1

€16.95*

€736.96* / 1 kg
To

3

€15.95*

€693.48* / 1 kg
To

5

€14.95*

€650.00* / 1 kg
From

6

€13.95*

€606.52* / 1 kg
Product information "Hyaluronic acid 200mg - 60 capsules"
What is hyaluronic acid?
Hyaluronic acid is a glycosaminoglycan, which is a long chain of disaccharides (sugar) responsible for the moisture balance in all connective tissues of the body. With advancing age, the hyaluronic acid level in the body decreases. Genetic predisposition, smoking as well as a magnesium and zinc deficiency seem to accelerate this process.
Where can you find hyaluronic acid?
Hyaluronic acid occurs in many areas of the body, including the eye (tear fluid, vitreous body), in the skin and in the joint (articular cartilages, synovial fluid). Specific proteins in the cell membranes form it.
Hyaluronic acid supplement by Fairvital
main component of the synovial fluid (joint fluid)
basic substance of tendons, ligaments and connective tissues
obtained by fermentation of yeast

vegetarian and vegan
gluten-free, lactose-free, fructose-free

without magnesium stearate and silicon dioxide

Application area:

Anti-Aging

, Beauty

, Joints

Compatibility:

Fish-free

, Fructose free

, Lactose free

, Nut free

, Soy free

, Vegan

, Without gluten

Dosage form:

Capsules

Vital substances:

Vital substances from A-Z
---
Zwei Kapseln enthalten:
Hyaluronsäure 400mg

Zutaten: Hyaluronsäure, Überzugsmittel Hydroxypropylmethylcellulose (Kapselhülle), Füllstoff mikrokristalline Cellulose, L-Leucin
| | |
| --- | --- |
| Abmessungen der Kapseln | |
| Länge | 21,4mm |
| Breite | 7,64mm |
---
Inhalt: 60 Kapseln

Verzehrempfehlung:
Erwachsene täglich 2 Kapseln auf die Mahlzeiten verteilt mit viel Wasser.