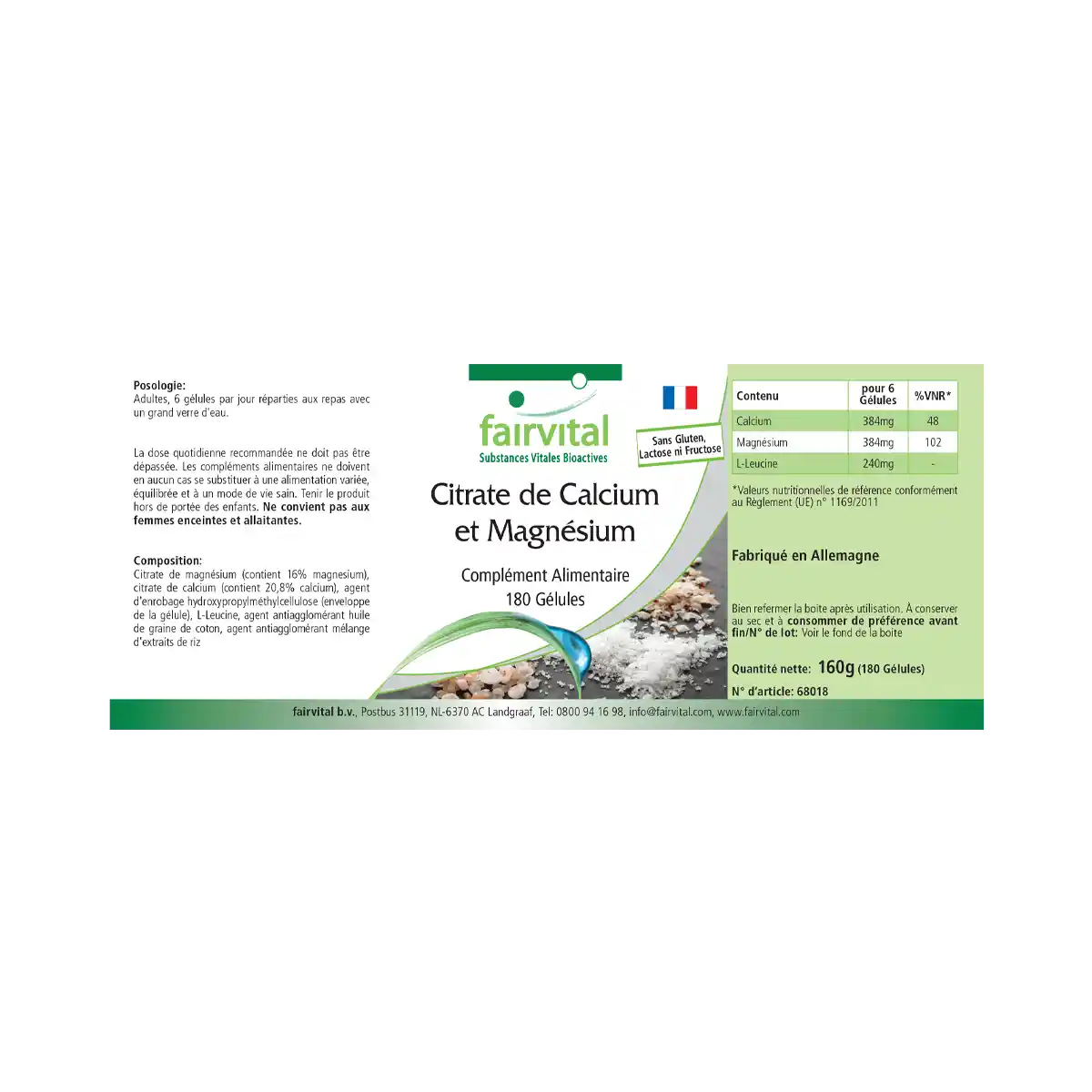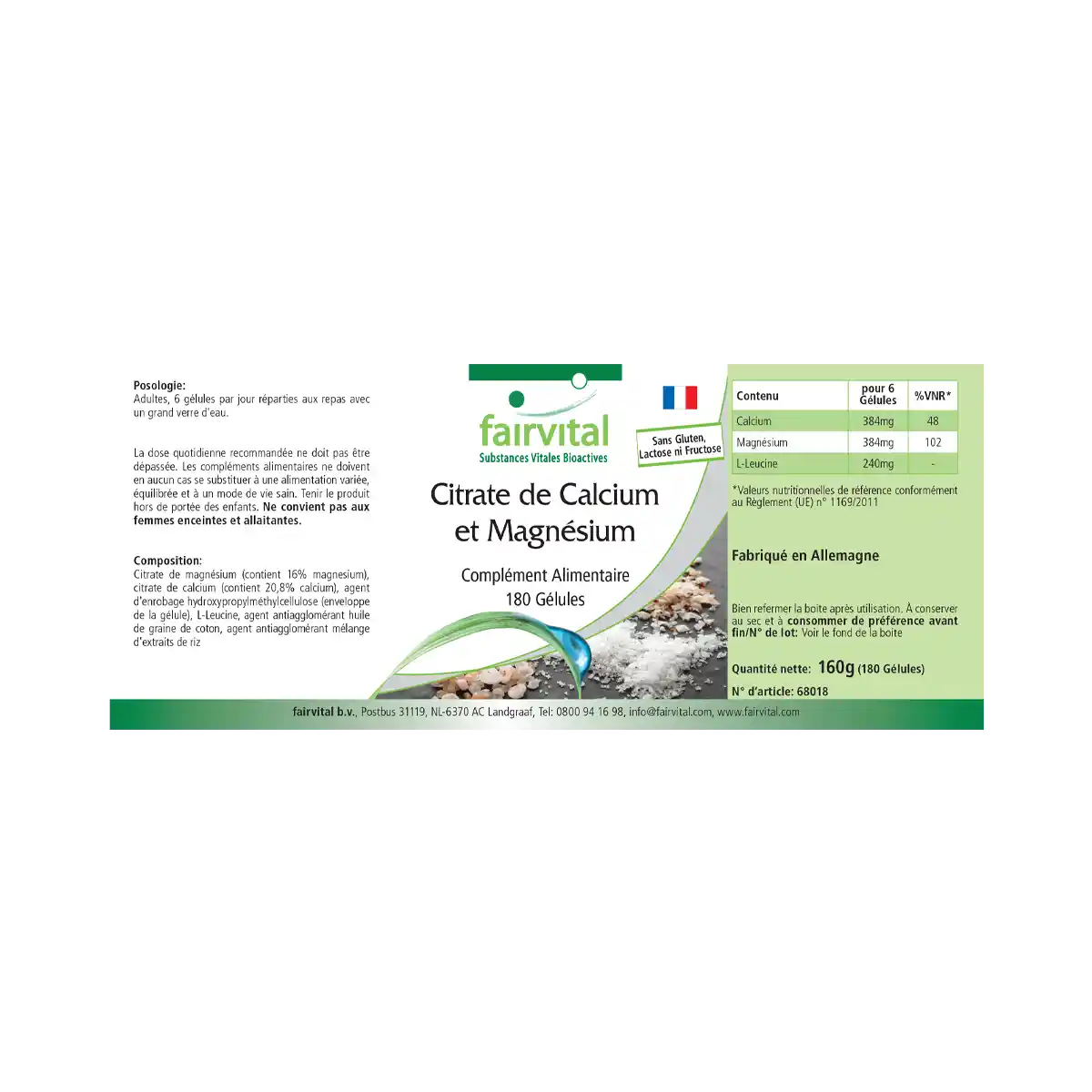 Quantity
Unit price
Base price
To

1

€28.95*

€180.94* / 1 kg
To

3

€27.45*

€171.56* / 1 kg
To

5

€25.95*

€162.19* / 1 kg
From

6

€24.45*

€152.81* / 1 kg
Product information "Calcium-magnesium citrate – 180 capsules"
Calcium and magnesium in citrate form is rapidly active in the body and readily digestible.
Essential Minerals
Calcium and Magnesium contact to the so-called essential minerals, which are absolutely necessary to maintain the functions of the organism. They possess a variety of important properties that have great significance for smooth processes in the human metabolism.
Calcium and magnesium for bones
Calcium influences and supports numerous functions of the body, including the maintenance of normal bones and teeth, as well as normal muscle function.
However, new scientific findings show that calcium can do much more. With an adequate calcium intake of 1000mg per day (source: German Society for Nutrition), the risk of obesity is reduced.
The magnesium content of the human body contains about 25g magnesium, of which about 60% is stored in the bones and contributes to their strength. For good bone health, it therefore makes sense to supply the body with sufficient amounts of both essential minerals, preferably until old age.
Magnesium for muscles and nerves
The involvement of magnesium includes more than 300 processes in the body. These include the normal function of muscles and the nervous system. Magnesium also makes all energy-dependent processes in the body possible in the first place.
Magnesium and vitamin D
Another important role of magnesium is to convert vitamin D to its active form (calcitriol) and make it available to the body, which supports the maintenance of normal vitamin D levels.
Bioavailability
Both calcium citrate and magnesium citrate have high bioavailability, meaning they are easily absorbed by the body due to the organic compound and are well tolerated.
Since magnesium citrate also occurs as a building block in the body, it is very quickly active and very well tolerated.
Advantages of calcium citrate and magnesium citrate capsules from Fairvital
for strong bones and relaxed muscles
may contribute to a balanced electrolyte balance
well bioavailable in organic form
vegetarian and vegan
gluten-free, lactose-free, fructose-free
without magnesium stearate and silicon dioxide
Unlike carbonates, which neutralize excess stomach acid, citrates are utilized in normal metabolism. If excess acid is present, it combines with the citrate due to the different charges and citric acid is formed, which is burned in the metabolism, generating energy.
Application area:

Bones

, Energy

, PH value

, Psyche

, Sport

Compatibility:

Fish-free

, Fructose free

, Lactose free

, Nut free

, Soy free

, Vegan

, Without gluten

Dosage form:

Capsules

Vital substances:

Minerals
---
Six capsules contain / NRV*:
Calcium 384mg / 48%
Magnesium 384mg / 102%
L-Leucine 240mg
* NRV: Nutrient reference values (reference amounts) according to Regulation (EU) No. 1169/2011

Ingredients: Magnesium Citrate (contains 16% Magnesium), Calcium Citrate (contains 20.8% Calcium), Glazing Agent Hydroxypropylmethylcellulose (Capsule Shell), L- Leucine, Anti-Caking Cottonseed Oil, Anti-Caking Rice Extract Blend
| | |
| --- | --- |
| Dimensions of the capsules | |
| Length | 23.3mm |
| Width | 8.53mm |
---
Content: 180 capsules

Recommendation:
Adults daily 6 capsules distributed over meals with plenty of water.
Not suitable for pregnant or nursing women.