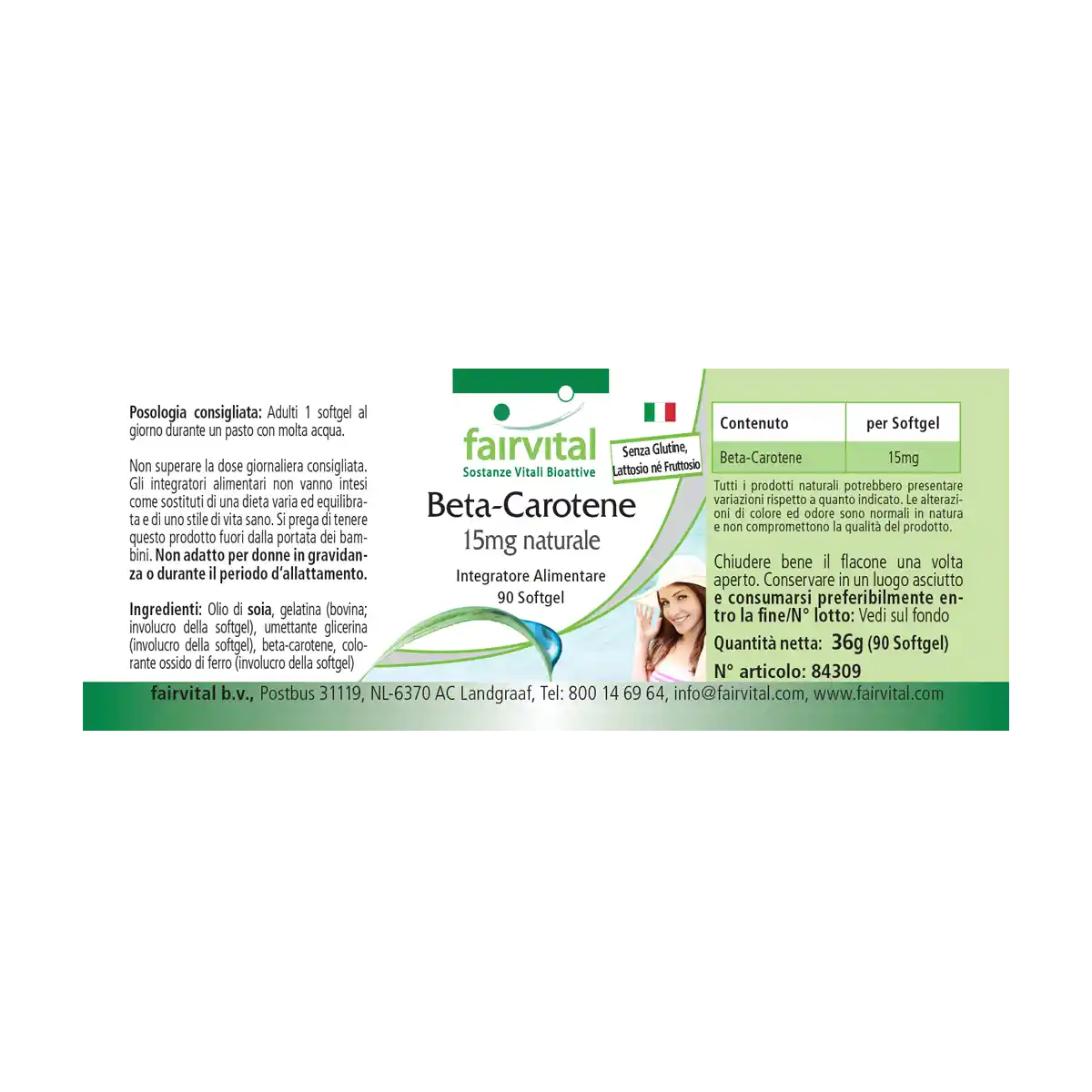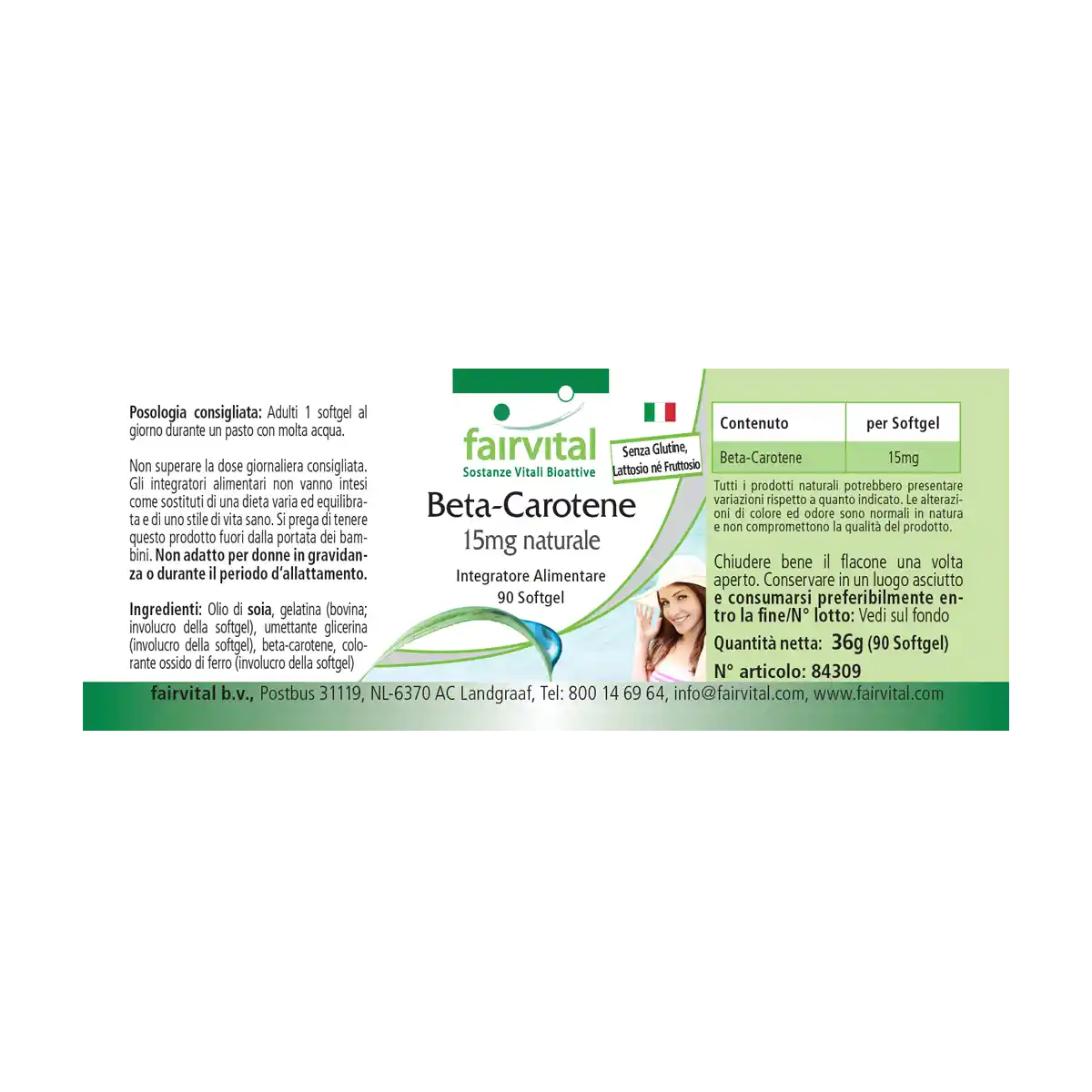 Quantity
Unit price
Base price
To

1

€15.95*

€443.06* / 1 kg
To

3

€15.45*

€429.17* / 1 kg
To

5

€14.95*

€415.28* / 1 kg
From

6

€14.45*

€401.39* / 1 kg
Product information "Beta-carotene 15mg natural – 90 softgels"

Beta carotene: For beautiful skin and healthy eyes
Beta-carotene is probably the most well-known carotenoid of the more than 400 carotenoids in the plant world and also the carotenoid that occurs most frequently there. Carotenoids are among the phytochemicals that give vegetables and fruit their reddish or yellowish colour. The main sources are yellow and green leafy vegetables, yellow fruits, carrots, spinach, squash, broccoli, grapefruit, mangoes, peaches and tomatoes. However, it can be found in numerous other vegetables and fruits.
Beta-carotene is the precursor of vitamin A and is therefore also called provitamin A.
If there is a need for vitamin A, the body is able to produce vitamin A (retinol) from beta-carotene. This is of interest to population groups that get very little vitamin A from their diet. You can meet your daily vitamin A needs.
by eating vegetables and fruits that are rich in beta-carotene
Beta-carotene conversion
It was previously assumed that 6 micrograms of beta-carotene is converted to 1 microgram of vitamin A in the body, but it is now believed that for 1 microgram of vitamin A double is needed, namely 12 micrograms of beta-carotene. Beta-carotene that is not needed is partially stored by the body for later conversion, with 80-85% being stored in the subcutaneous fat and 8-12% in the liver.
How much beta-carotene is converted to vitamin A depends on how much vitamin A is already present in the body. This prevents excessive accumulation of vitamin A. Excess beta-carotene is easily excreted from the body.
Beta-carotene is one of about 50 carotenoids that have a provitamin A effect and is the most active of these.
Benefits of beta carotene for hair
Vitamin A, which is formed in the body from beta-carotene, is necessary for cell growth in all cells, including hair cells. A lack of vitamin A can lead to dry, dull and lifeless hair and a dry scalp. Vitamin A can also promote hair regrowth.
Beta carotene capsules from Fairvital
gluten-free, lactose-free, fructose-free
Easy to swallow softgels
good for the eyes
nourishes and protects the skin
for beautiful hair
counters to signs of aging in the skin
supports the immune system
without magnesium stearate and silicon dioxide
Application area:

Anti-Aging

, Beauty

, Eyes

, Tissue Health

Compatibility:

Fish-free

, Fructose free

, Lactose free

, Nut free

, Without gluten

Dosage form:

Softgels

Vital substances:

Antioxidants

, Carotenoids
---
One softgel contains:
beta-carotene 15mg

Ingredients: soyoil, gelatin (beef, capsule shell), beta-carotene, humectant glycerin, beta-carotene, coloring iron oxides (capsule shell)
| | |
| --- | --- |
| Dimensions of the softgels | |
| Length | 13mm |
| Width | 8mm |
| Diameter | 7mm |
---
Contents: 90 softgels

Recommended consumption:
Adults 1 softgel daily with a meal and plenty of water.
Not suitable for pregnant and breastfeeding women.