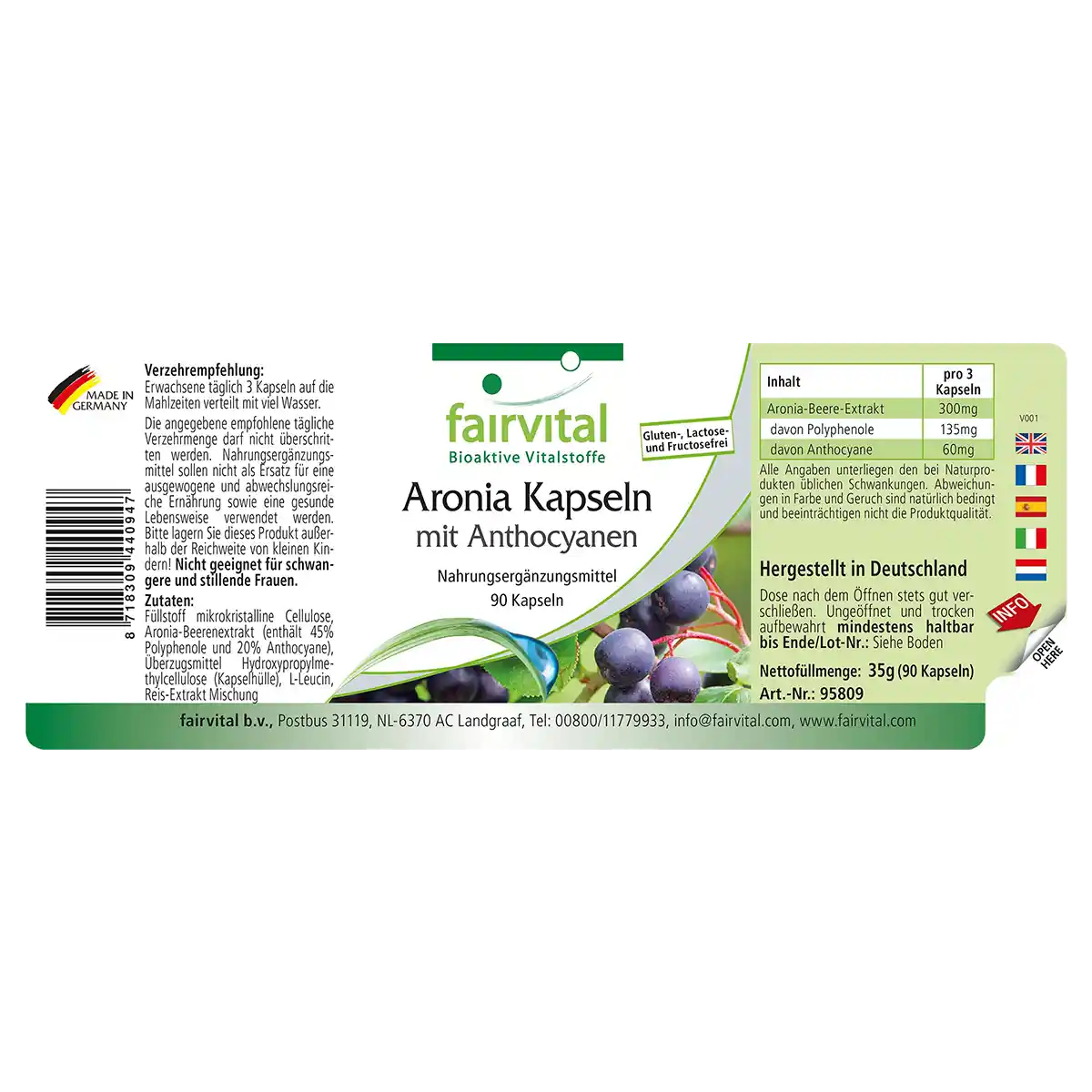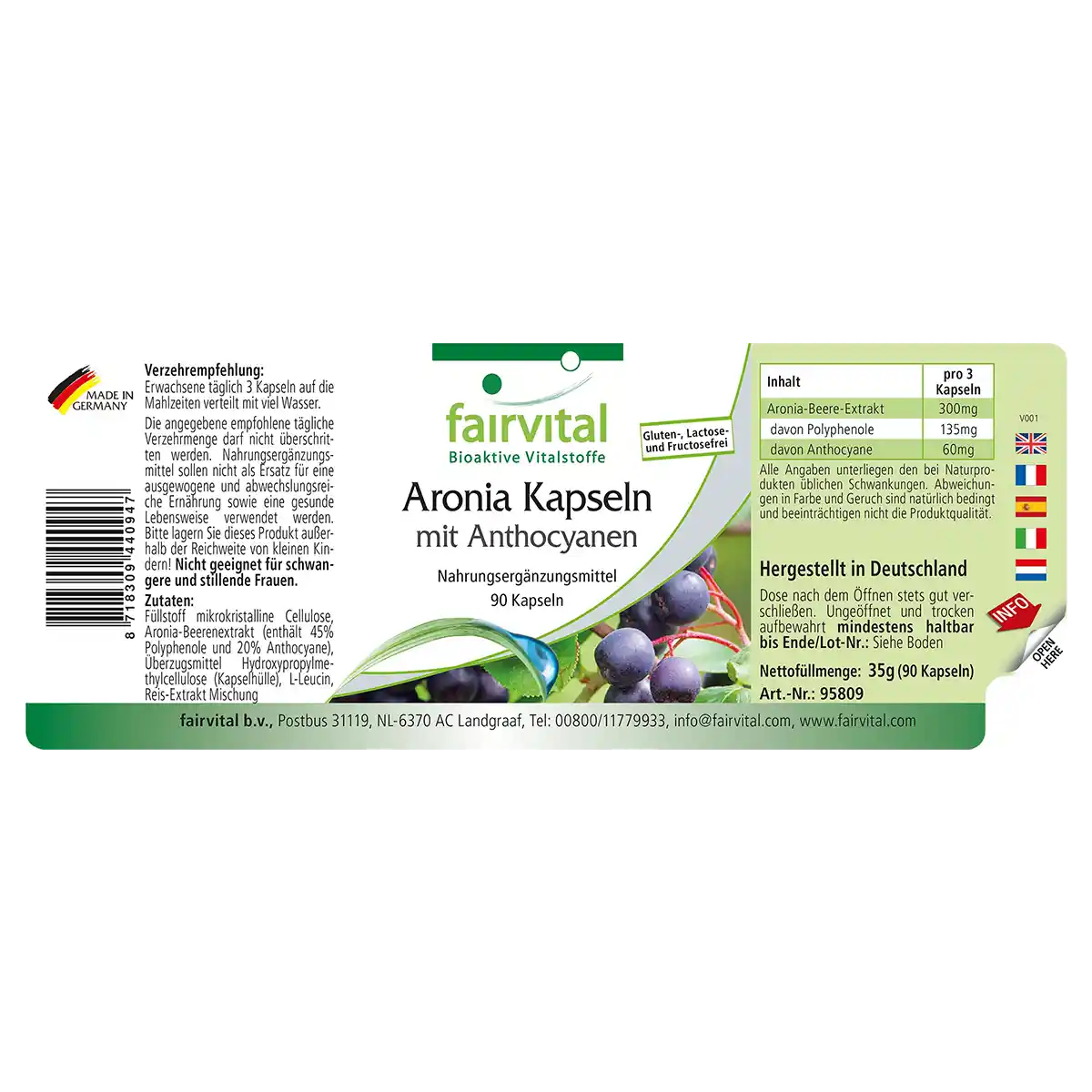 Quantity
Unit price
Base price
To

1

€19.95*

€570.00* / 1 kg
To

3

€18.95*

€541.43* / 1 kg
To

5

€17.95*

€512.86* / 1 kg
From

6

€16.95*

€484.29* / 1 kg
Product information "Aronia capsules with anthocyanins - 90 capsules"
Aronia berries provide folic acid, vitamin C, vitamin K and phytochemicals
What are aronia berries?
The aronia berry belongs to the rose family (Rosaceae) and is also called chokeberry due to its appearance and similarity to apples. It has been known in Eastern Europe for decades and has been valued for its ingredients for just as long. Because of its high content of various valuable vital substances, it is one of the recommended types of fruit there.
The natural ingredients of the aronia berry
In addition to vitamins (provitamin A, vitamin B2, folic acid, vitamin C, vitamin E, vitamin K, beta-carotene) and Minerals (potassium, calcium, iron, iodine, zinc), it is rich in fiber and secondary plant substances strong>. In the case of secondary plant substances, particular attention is paid to the polyphenols they contain. They include the so-called flavonoids, which are said to have a large number of positive properties.
Flavonoids are also found in red wine, among other things. However, the proportion of aronia berries is about five times higher than that of grapes. They include, for example, flavones, anthocyanins and proanthocyanidins.
Natural antioxidants
The polyphenols that occur naturally in plants have a high antioxidant potential and can therefore be important for the protection of cells and tissues .
Interesting: the cultivation of Aronia does not require any pesticides
Pesticides do not have to be used when aronia is cultivated, as its high tannin content makes it resistant to diseases and pests.
Advantages of Fairvital Aronia capsules
Antioxidant capacity (TEAK): 328.3 mmol/trolox/kg
Standardized to 45% polyphenols and 20% anthocyanins
Rich in natural vitamins and minerals
may appeal to the immune system
Powerful antioxidant properties
vegetarian and vegan
gluten free, lactose free
without magnesium stearate and silicon dioxide
Application area:

Anti-Aging

, Immune system

, Tissue Health

Compatibility:

Fish-free

, Fructose free

, Lactose free

, Nut free

, Soy free

, Vegan

, Without gluten

Dosage form:

Capsules

Vital substances:

Antioxidants

, Plant extracts
---
Three capsules contain:
Aronia berry extract 300mg
including polyphenols 135mg
including anthocyanins 60mg

Ingredients: Bulking agent microcrystalline cellulose, aronia berry extract (contains 45% polyphenols and 20% anthocyanins), coating agent hydroxypropylmethylcellulose (capsule shell), L-leucine, rice extract blend
| | |
| --- | --- |
| Dimensions of the capsules | |
| Length | 19.4mm |
| Width | 6.91mm |
---
Contents: 90 capsules

Recommended consumption:
Adults take 3 capsules daily with meals, with plenty of water.< /p>
Not suitable for pregnant and breastfeeding women.